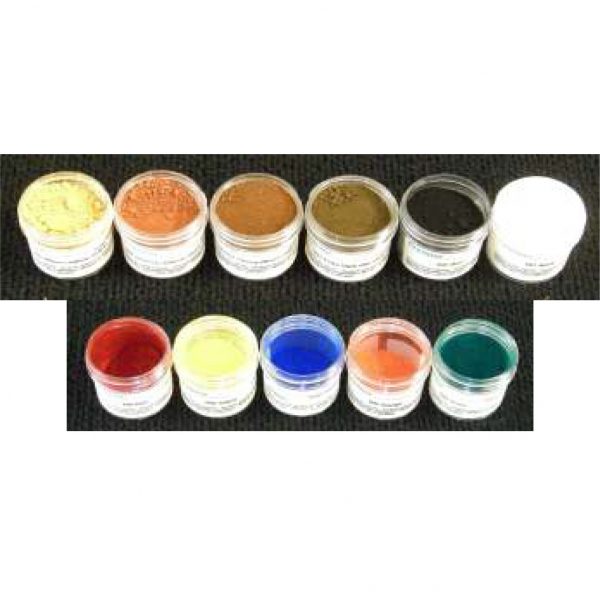 Premier Individual 600 Series Stain Powders
Finely ground pigment powders for toning, padding or re-graining a repair area. These are very finely ground organic and inorganic pigments used for touch-up. These are the very best pigments available and are the same ones we use in our own manufacturing. They can be applied with our grain liquid, padding lacquer or pretty much any vehicle. They blend together easily and will offer a very crisp (not muddy) tone to your repair. Their light fastness qualities are excellent.
To see all included colors in this assortment see Stain Chart.
Earth Colors:
Description

Color

Size

Product #

Price

Quantity

Action

Description

Premier Stain Powders-605 Wheat (Yellow Ochre)

Color

605 Wheat (Yellow Ochre)

Size

1 oz

Product #

PRM605

Price

Call for Price

Description

Premier Stain Powders-618 Venetian Cherry (Burnt Sienna)

Color

618 Venetian Cherry (Burnt Sienna)

Size

1 oz

Product #

PRM618

Price

Call for Price

Description

Premier Stain Powders-624 Brown Cherry (Burnt Umber)

Color

624 Brown Cherry (Burnt Umber)

Size

1 oz

Product #

PRM624

Price

Call for Price

Description

Premier Stain Powders-631 Extra Dark Oak (Raw Umber)

Color

631 Extra Dark Oak (Raw Umber)

Size

1 oz

Product #

PRM631

Price

Call for Price

Description

Premier Stain Powders-637 Black

Color

637 Black

Size

1 oz

Product #

PRM637

Price

Call for Price

Description

Premier Stain Powders-681 White

Color

681 White

Size

1 oz

Product #

PRM681

Price

Call for Price
Primary Colors:
Description

Color

Size

Product #

Price

Quantity

Action

Description

Premier Stain Powders-600 Red

Color

600 Red

Size

1/4 oz

Product #

PRM600-R

Price

Call for Price

Description

Premier Stain Powders-600 Yellow

Color

600 Yellow

Size

1/4 oz

Product #

PRM600-Y

Price

Call for Price

Description

Premier Stain Powders-600 Blue

Color

600 Blue

Size

1/4 oz

Product #

PRM600-B

Price

Call for Price

Description

Premier Stain Powders-600 Orange

Color

600 Orange

Size

1/4 oz

Product #

PRM600-O

Price

Call for Price

Description

Premier Stain Powders-600 Green

Color

600 Green

Size

1/4 oz

Product #

PRM600-G

Price

Call for Price