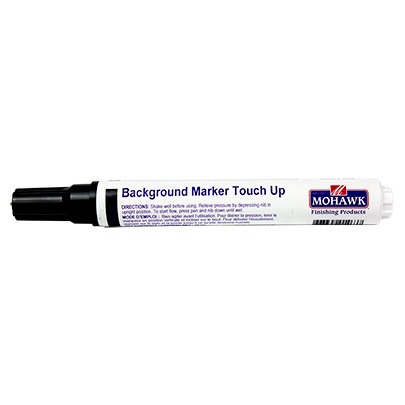 Mohawk Individual Background Markers
The Background Marker Touch-Up dispenses a thin, fast drying, low sheen film to replace background color over fills, glue lines, dark areas in raw wood, and other stains. Indispensable for touch up on MDF, particleboard, and other very absorbent substrates, which go dark with other types of markers. Color band on markers to aid in identifying correct colors.
⚠WARNING: Cancer Harm – www.P65Warnings.ca.gov. Applies to these product(s).
To get more information regarding these products see Technical Data Sheet
For a sample chart of all 157 available colors see Stain Chart.
Description

Color

Product #

Price

Quantity

Action

Background Markers-Dove Tail SWP

Color

Dove Tail SWP

M291-0217

Call for Price

Background Markers-SM Saddle

Color

SM Saddle

M294-0001

Call for Price

Background Markers-SM Stone

Color

SM Stone

M294-0002

Call for Price

Background Markers-SM Shale

Color

SM Shale

M294-0003

Call for Price

Background Markers-Cranberry

Color

Cranberry

M294-0007

Call for Price

Background Markers-Ivory Brown Glaze

Color

Ivory Brown Glaze

M294-0008

Call for Price

Background Markers-Seal

Color

Seal

M294-0010

Call for Price

Background Markers-Maritime

Color

Maritime

M294-0011

Call for Price

Background Markers-Storm

Color

Storm

M294-0012

Call for Price

Background Markers-Sharkey Gray

Color

Sharkey Gray

M294-0013

Call for Price

Background Markers-Shark

Color

Shark

M294-0018

Call for Price

Background Markers-Snowdrift KMC #PT300SD

Color

Snowdrift KMC #PT300SD

M294-0026

Call for Price

Background Markers-Nebulous Gray KMC #PT320NG (2)

Color

Nebulous Gray KMC #PT320NG (2)

M294-0027

Call for Price

Background Markers-Mission Wall KMC #PT350

Color

Mission Wall KMC #PT350

M294-0028

Call for Price

Background Markers-Gun Metal Grey KMC #PT315 (2)

Color

Gun Metal Grey KMC #PT315 (2)

M294-0035

Call for Price

Background Markers-Repose Grey (2)

Color

Repose Grey (2)

M294-0036

Call for Price

Background Markers-Dove

Color

Dove

M294-0037

Call for Price

Background Markers-Midnight Mystique KMC #SN365

Color

Midnight Mystique KMC #SN365

M294-0052

Call for Price

Background Markers-Crystal Fog (2)

Color

Crystal Fog (2)

M294-0055

Call for Price

Background Markers-Platinum Grey KMC #PT355 (2)

Color

Platinum Grey KMC #PT355 (2)

M294-0057

Call for Price

Background Markers-Wedgestone KMC #PT390

Color

Wedgestone KMC #PT390

M294-0059

Call for Price

Background Markers-River Rock KMC #PT325

Color

River Rock KMC #PT325

M294-0061

Call for Price

Background Markers-Vanilla Soufflé KMC #PT330VS

Color

Vanilla Soufflé KMC #PT330VS

M294-0062

Call for Price

Background Markers-Misty Bayou KMC #PT310MB

Color

Misty Bayou KMC #PT310MB

M294-0069

Call for Price

Background Markers-Eiffel Tower KMC #PT335

Color

Eiffel Tower KMC #PT335

M294-0070

Call for Price

Background Markers-Sand

Color

Sand

M294-0083

Call for Price

Background Markers-Cashmere/Pearl

Color

Cashmere/Pearl

M294-0085

Call for Price

Background Markers-Cloud / Sterling / Bluff

Color

Cloud / Sterling / Bluff

M294-0086

Call for Price

Background Markers-Dover

Color

Dover

M294-0087

Call for Price

Background Markers-Forest Floor

Color

Forest Floor

M294-0088

Call for Price

Background Markers-Juniper Berry/Niagara

Color

Juniper Berry/Niagara

M294-0089

Call for Price

Background Markers-White/Alabaster/Picket Fence

Color

White/Alabaster/Picket Fence

M294-0090

Call for Price

Background Markers-Egret/Khaki/Scone

Color

Egret/Khaki/Scone

M294-0095

Call for Price

Background Markers-Rainwater

Color

Rainwater

M294-0097

Call for Price

Background Markers-Fossil/Moonstone

Color

Fossil/Moonstone

M294-0098

Call for Price

Background Markers-Baltic 9731200D78C

Color

Baltic 9731200D78C

M294-0107

Call for Price

Background Markers-Moonshine 2

Color

Moonshine 2

M294-0110

Call for Price

Background Markers-Linen

Color

Linen

M294-0111

Call for Price

Background Markers-Pebble Grey 2

Color

Pebble Grey 2

M294-0113

Call for Price

Background Markers-Pebble Grey Glaze 2

Color

Pebble Grey Glaze 2

M294-0114

Call for Price

Background Markers-Ash 2

Color

Ash 2

M294-0117

Call for Price

Background Markers-Cashmere

Color

Cashmere

M294-0118

Call for Price

Background Markers-White 9731200WH

Color

White 9731200WH

M294-0125

Call for Price

Background Markers-Blueberry

Color

Blueberry

M294-0127

Call for Price

Background Markers-Forest Lane Dark

Color

Forest Lane Dark

M294-0138

Call for Price

Background Markers-Forest Lane Light

Color

Forest Lane Light

M294-0139

Call for Price

Background Markers-Thatch

Color

Thatch

M294-0144

Call for Price

Background Markers-Chocolate

Color

Chocolate

M294-0145

Call for Price

Background Markers-Tundra

Color

Tundra

M294-0153

Call for Price

Background Markers-C12 Petal

Color

C12 Petal

M294-0154

Call for Price

Background Markers-C31 Daffodil

Color

C31 Daffodil

M294-0155

Call for Price

Background Markers-C73 Midnight Blue

Color

C73 Midnight Blue

M294-0156

Call for Price

Background Markers-264 Mouse Grey

Color

264 Mouse Grey

M294-0157

Call for Price

Background Markers-Cranberry

Color

Cranberry

M294-0158

Call for Price

Background Markers-Morel

Color

Morel

M294-0159

Call for Price

Background Markers-Greyloft

Color

Greyloft

M294-0165

Call for Price

Background Markers-Graphite

Color

Graphite

M294-0167

Call for Price

Background Markers-Mist / Whisper

Color

Mist / Whisper

M294-0168

Call for Price

Background Markers-Sable Oak

Color

Sable Oak

M294-0169

Call for Price

Background Markers-Harbor

Color

Harbor

M294-0183

Call for Price

Background Markers-Black Forest

Color

Black Forest

M294-0185

Call for Price

Background Markers-Nautical Blue KMC #PT305

Color

Nautical Blue KMC #PT305

M294-0186

Call for Price

Background Markers-Frost

Color

Frost

M294-0187

Call for Price

Background Markers-Havana

Color

Havana

M294-0188

Call for Price

Background Markers-Sahara

Color

Sahara

M294-0189

Call for Price

Background Markers-Coffee Maple

Color

Coffee Maple

M294-0190

Call for Price

Background Markers-Dorian Gray

Color

Dorian Gray

M294-0192

Call for Price

Background Markers-Soft Cream

Color

Soft Cream

M294-0198

Call for Price

Background Markers-White II

Color

White II

M294-0199

Call for Price

Background Markers-Buckskin

Color

Buckskin

M294-0200

Call for Price

Background Markers-Billowy Breeze SWP

Color

Billowy Breeze SWP

M294-0205

Call for Price

Background Markers-London Skyline KMC PT375

Color

London Skyline KMC PT375

M294-0210

Call for Price

Background Markers-Molasses

Color

Molasses

M294-0212

Call for Price

Background Markers-Lagoon

Color

Lagoon

M294-0213

Call for Price

Background Markers-Surfside

Color

Surfside

M294-0214

Call for Price

Background Markers-Pure White SWP

Color

Pure White SWP

M294-0216

Call for Price

Background Markers-Oyster SWP

Color

Oyster SWP

M294-0219

Call for Price

Background Markers-Graphite SWP

Color

Graphite SWP

M294-0220

Call for Price

Background Markers-Aged River Rock

Color

Aged River Rock

M294-0226

Call for Price

Background Markers-Aged Concrete

Color

Aged Concrete

M294-0228

Call for Price

Background Markers-Aged Papyrus

Color

Aged Papyrus

M294-0230

Call for Price

Background Markers-Extra White SWP

Color

Extra White SWP

M294-0231

Call for Price

Background Markers-Gun Smoke SWP

Color

Gun Smoke SWP

M294-0232

Call for Price

Background Markers-Bonsai

Color

Bonsai

M294-0239

Call for Price

Background Markers-Burmese

Color

Burmese

M294-0242

Call for Price

Background Markers-Smokey Blue SWP

Color

Smokey Blue SWP

M294-0243

Call for Price

Background Markers-Linen SWP

Color

Linen SWP

M294-0244

Call for Price

Background Markers-Light Mocha SWP

Color

Light Mocha SWP

M294-0245

Call for Price

Background Markers-Sandstone SWP

Color

Sandstone SWP

M294-0246

Call for Price

Background Markers-Dover White SWP

Color

Dover White SWP

M294-0247

Call for Price

Background Markers-Translucent Silversmith

Color

Translucent Silversmith

M294-0259

Call for Price

Background Markers-Translucent Powder Grey

Color

Translucent Powder Grey

M294-0260

Call for Price

Background Markers-Translucent Limestone

Color

Translucent Limestone

M294-0261

Call for Price

Background Markers-Rocky Mountain Sky

Color

Rocky Mountain Sky

M294-0262

Call for Price

Background Markers-Cattail

Color

Cattail

M294-0263

Call for Price

Background Markers-Medium Cherry

Color

Medium Cherry

M294-0264

Call for Price

Background Markers-Cider

Color

Cider

M294-0265

Call for Price

Background Markers-Palomino

Color

Palomino

M294-0266

Call for Price

Background Markers-Light Greige SWP

Color

Light Greige SWP

M294-0268

Call for Price

Background Markers-Hale Navy SWP

Color

Hale Navy SWP

M294-0269

Call for Price

Background Markers-Mid Greige SWP

Color

Mid Greige SWP

M294-0270

Call for Price

Background Markers-Gauntlet Gray SWP

Color

Gauntlet Gray SWP

M294-0273

Call for Price

Background Markers-Naval SWP

Color

Naval SWP

M294-0276

Call for Price

Background Markers-Gray Paper SWP

Color

Gray Paper SWP

M294-0277

Call for Price

Background Markers-Dark Greige SWP

Color

Dark Greige SWP

M294-0278

Call for Price

Background Markers-Black SWP

Color

Black SWP

M294-0280

Call for Price

Background Markers-Kodiak

Color

Kodiak

M294-0281

Call for Price

Background Markers-Grizzly

Color

Grizzly

M294-0282

Call for Price

Background Markers-Jasper SWP

Color

Jasper SWP

M294-0283

Call for Price

Background Markers-Heron Plume SWP

Color

Heron Plume SWP

M294-0284

Call for Price

Background Markers-Cedar SWP

Color

Cedar SWP

M294-0285

Call for Price

Background Markers-Boulder

Color

Boulder

M294-0288

Call for Price

Background Markers-Urbane Bronze SWP

Color

Urbane Bronze SWP

M294-0289

Call for Price

Background Markers-Cream 9731200CS

Color

Cream 9731200CS

M294-0660

Call for Price

Background Markers-Biscotti W/Cocoa 9731200IGM

Color

Biscotti W/Cocoa 9731200IGM

M294-0695

Call for Price

Background Markers-Willow 9731200WLOM

Color

Willow 9731200WLOM

M294-0784

Call for Price

Background Markers-Brigett

Color

Brigett

M294-1026

Call for Price

Background Markers-Country French Red

Color

Country French Red

M294-3148

Call for Price

Background Markers-Autumn Blush 9731200AB (7)

Color

Autumn Blush 9731200AB (7)

M294-4000

Call for Price

Background Markers-Fawn/Sunset 9731200SU (7)

Color

Fawn/Sunset 9731200SU (7)

M294-4001

Call for Price

Background Markers-Chocolate Cherry 9731200CZC (7)

Color

Chocolate Cherry 9731200CZC (7)

M294-4002

Call for Price

Background Markers-Cabernet Cherry 9731200CBN (7)

Color

Cabernet Cherry 9731200CBN (7)

M294-4003

Call for Price

Background Markers-Ginger Glaze 9731200GNM/9920885 (7)

Color

Ginger Glaze 9731200GNM/9920885 (7)

M294-4004

Call for Price

Background Markers-Chestnut 9731200CNM (7)

Color

Chestnut 9731200CNM (7)

M294-4005

Call for Price

Background Markers-Maple Caramel/Toffee 3325750 (7)

Color

Maple Caramel/Toffee 3325750 (7)

M294-4006

Call for Price

Background Markers-Cherry Cider 12564969/4099545 (7)

Color

Cherry Cider 12564969/4099545 (7)

M294-4007

Call for Price

Background Markers-Honey Spice/Amber 9731200HS (7)

Color

Honey Spice/Amber 9731200HS (7)

M294-4008

Call for Price

Background Markers-Kaffe 9731200KA (7)

Color

Kaffe 9731200KA (7)

M294-4009

Call for Price

Background Markers-Natural (1)

Color

Natural (1)

M294-5000

Call for Price

Background Markers-Champagne (1)

Color

Champagne (1)

M294-5001

Call for Price

Background Markers-Dark Walnut/Dark Glaze (1)

Color

Dark Walnut/Dark Glaze (1)

M294-5002

Call for Price

Background Markers-Medium Oak (1)

Color

Medium Oak (1)

M294-5003

Call for Price

Background Markers-Light Walnut (1)

Color

Light Walnut (1)

M294-5004

Call for Price

Background Markers-Mahogany (1)

Color

Mahogany (1)

M294-5005

Call for Price

Background Markers-Cherry (1)

Color

Cherry (1)

M294-5006

Call for Price

Background Markers-Georgian Leather (1)

Color

Georgian Leather (1)

M294-5007

Call for Price

Background Markers-Sweet Maple (1)

Color

Sweet Maple (1)

M294-5008

Call for Price

Background Markers-Oatmeal Maple (1)

Color

Oatmeal Maple (1)

M294-5009

Call for Price

Background Markers-Light Golden Oak (1)

Color

Light Golden Oak (1)

M294-5010

Call for Price

Background Markers-Black (1)

Color

Black (1)

M294-5011

Call for Price

Background Markers-Antique Light Red 4469

Color

Antique Light Red 4469

M294-5013

Call for Price

Background Markers-Khaki 4469

Color

Khaki 4469

M294-5014

Call for Price

Background Markers-Putty 4469

Color

Putty 4469

M294-5015

Call for Price

Background Markers-Antique Light Blue 4469

Color

Antique Light Blue 4469

M294-5016

Call for Price

Background Markers-Antique Light Green 4469

Color

Antique Light Green 4469

M294-5017

Call for Price

Background Markers-Interior Maple

Color

Interior Maple

M294-5018

Call for Price

Background Markers-Yellow 1468

Color

Yellow 1468

M294-5019

Call for Price

Background Markers-Sage 1101

Color

Sage 1101

M294-5020

Call for Price

Background Markers-Green 1468

Color

Green 1468

M294-5021

Call for Price

Background Markers-Winter Haven 2679

Color

Winter Haven 2679

M294-5022

Call for Price

Background Markers-Saffron Yellow

Color

Saffron Yellow

M294-5024

Call for Price

Background Markers-Savannah Green

Color

Savannah Green

M294-5025

Call for Price

Background Markers-White 2384/6834/2869

Color

White 2384/6834/2869

M294-5026

Call for Price

Background Markers-White SM

Color

White SM

M294-5027

Call for Price

Background Markers-Soumi #1012

Color

Soumi #1012

M294-5028

Call for Price
Assortment Packs:
Description

Size

Product #

Price

Quantity

Action

Description

Background Markers-Pack Gray Assortment (2)

Size

Pack Gray Assortment (2)

Product #

M294-1210

Price

Call for Price

Description

Background Markers-Marker Assortment (1)

Size

Marker Assortment (1)

Product #

M294-5012

Price

Call for Price