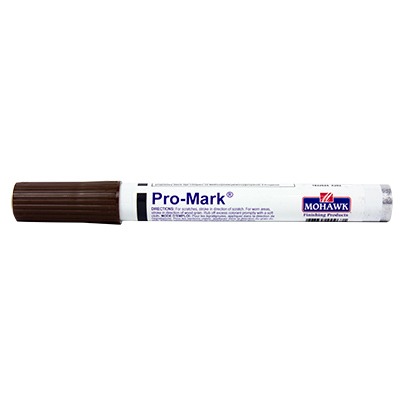 Mohawk Individual Pro-Mark Markers
The Pro-Mark® capillary marker features excellent flow. Whether you need to touch-up 1 inch or 20 feet, the Pro-Mark® Marker does it the first time and everytime. The colors are the most fade resistant, the most resistant to color shift from topcoating and have the best bleed resistance. The nib offers superior flow along with the durability needed to do all normal repair work. The nib remains usable for the life of the marker. Marks equally well with the edge, the bottom or the tip. Good adhesion to most surfaces and resistance to polishes are built into the Pro-Mark® Marker.
⚠WARNING: Cancer Harm – www.P65Warnings.ca.gov. Applies to these product(s).
To get more information regarding these products see Technical Data Sheet
For a sample chart of all 68 available colors see Stain Chart.
Description

Color

Product #

Price

Quantity

Action

Pro-Mark Markers-Black

Color

Black

M267-0001

Call for Price

Pro-Mark Markers-Natural Ash (2,5,P)

Color

Natural Ash (2,5,P)

M267-0003

Call for Price

Pro-Mark Markers-Light Oak (3,5,P)

Color

Light Oak (3,5,P)

M267-0004

Call for Price

Pro-Mark Markers-Whiskey Barrel KMC #SN336

Color

Whiskey Barrel KMC #SN336

M267-0030

Call for Price

Pro-Mark Markers-Autumn Harvest KMC #SN330

Color

Autumn Harvest KMC #SN330

M267-0031

Call for Price

Pro-Mark Markers-Cappuccino Brown KMC #SN373

Color

Cappuccino Brown KMC #SN373

M267-0032

Call for Price

Pro-Mark Markers-Grey Wolf KMC #SN347

Color

Grey Wolf KMC #SN347

M267-0033

Call for Price

Pro-Mark Markers-Espresso KMC #SN338

Color

Espresso KMC #SN338

M267-0034

Call for Price

Pro-Mark Markers-Burnt Sienna KMC #SN310

Color

Burnt Sienna KMC #SN310

M267-0050

Call for Price

Pro-Mark Markers-English Leather KMC #SN312

Color

English Leather KMC #SN312

M267-0051

Call for Price

Pro-Mark Markers-Burgundy Trace KMC #SN374

Color

Burgundy Trace KMC #SN374

M267-0053

Call for Price

Pro-Mark Markers-Crimson Rose KMC #SN392

Color

Crimson Rose KMC #SN392

M267-0054

Call for Price

Pro-Mark Markers-Sorrel Sky KMC #SN395

Color

Sorrel Sky KMC #SN395

M267-0056

Call for Price

Pro-Mark Markers-Honey Maple (1,2,5,P)

Color

Honey Maple (1,2,5,P)

M267-0063

Call for Price

Pro-Mark Markers-Hearty Rye KMC #SN300

Color

Hearty Rye KMC #SN300

M267-0064

Call for Price

Pro-Mark Markers-Golden Nutmeg KMC #SN360

Color

Golden Nutmeg KMC #SN360

M267-0065

Call for Price

Pro-Mark Markers-Aged Bronze KMC #SN302

Color

Aged Bronze KMC #SN302

M267-0067

Call for Price

Pro-Mark Markers-Spruce Ridge KMC #SN355

Color

Spruce Ridge KMC #SN355

M267-0068

Call for Price

Pro-Mark Markers-Classic Chestnut KMC #SN350

Color

Classic Chestnut KMC #SN350

M267-0072

Call for Price

Pro-Mark Markers-Tawny Beechnut KMC #SN386

Color

Tawny Beechnut KMC #SN386

M267-0073

Call for Price

Pro-Mark Markers-Oiled Saddle KMC #SN371

Color

Oiled Saddle KMC #SN371

M267-0074

Call for Price

Pro-Mark Markers-Natural Amber (1,2,5)

Color

Natural Amber (1,2,5)

M267-0081

Call for Price

Pro-Mark Markers-Warm Brown Walnut (1,4,5)

Color

Warm Brown Walnut (1,4,5)

M267-0094

Call for Price

Pro-Mark Markers-Buck Board

Color

Buck Board

M267-0112

Call for Price

Pro-Mark Markers-Antique Maple (1,3,5)

Color

Antique Maple (1,3,5)

M267-0194

Call for Price

Pro-Mark Markers-Bordeaux

Color

Bordeaux

M267-0201

Call for Price

Pro-Mark Markers-Medium Walnut/Brown Pecan (4,5,P)

Color

Medium Walnut/Brown Pecan (4,5,P)

M267-0207

Call for Price

Pro-Mark Markers-Old World Walnut (1,3,5)

Color

Old World Walnut (1,3,5)

M267-0208

Call for Price

Pro-Mark Markers-Extra Dark Walnut (3,5,P)

Color

Extra Dark Walnut (3,5,P)

M267-0209

Call for Price

Pro-Mark Markers-Cherry Slate

Color

Cherry Slate

M267-0215

Call for Price

Pro-Mark Markers-Black Brown (P)

Color

Black Brown (P)

M267-0223

Call for Price

Pro-Mark Markers-Plum Black (4,5)

Color

Plum Black (4,5)

M267-0224

Call for Price

Pro-Mark Markers-Dark Red Mahogany (4,5,P)

Color

Dark Red Mahogany (4,5,P)

M267-0227

Call for Price

Pro-Mark Markers-Red Brown Mahogany (2,5,P)

Color

Red Brown Mahogany (2,5,P)

M267-0246

Call for Price

Pro-Mark Markers-Perfect Brown (3,5,P)

Color

Perfect Brown (3,5,P)

M267-0249

Call for Price

Pro-Mark Markers-Brown Walnut/Light Oak (3,5)

Color

Brown Walnut/Light Oak (3,5)

M267-0252

Call for Price

Pro-Mark Markers-Newport-Ebonized Cherry (4,5)

Color

Newport-Ebonized Cherry (4,5)

M267-0266

Call for Price

Pro-Mark Markers-Cherry Autumn

Color

Cherry Autumn

M267-0267

Call for Price

Pro-Mark Markers-Maple Rye

Color

Maple Rye

M267-0286

Call for Price

Pro-Mark Markers-Van Dyke Brown KMC SN329

Color

Van Dyke Brown KMC SN329

M267-0290

Call for Price

Pro-Mark Markers-Light Natural Oak (2,5,P)

Color

Light Natural Oak (2,5,P)

M267-0321

Call for Price

Pro-Mark Markers-Golden Oak (1,4,5,P)

Color

Golden Oak (1,4,5,P)

M267-0337

Call for Price

Pro-Mark Markers-Medium Oak (4,5,P)

Color

Medium Oak (4,5,P)

M267-0355

Call for Price

Pro-Mark Markers-Dark Red Walnut (2,5,P)

Color

Dark Red Walnut (2,5,P)

M267-0363

Call for Price

Pro-Mark Markers-Heartwood Walnut (3,5)

Color

Heartwood Walnut (3,5)

M267-0364

Call for Price

Pro-Mark Markers-Warm Walnut (4,5)

Color

Warm Walnut (4,5)

M267-0365

Call for Price

Pro-Mark Markers-Cherry/Walnut (1,2,5)

Color

Cherry/Walnut (1,2,5)

M267-0381

Call for Price

Pro-Mark Markers-Deep Cordovan (2,5)

Color

Deep Cordovan (2,5)

M267-0385

Call for Price

Pro-Mark Markers-Mahogany (4,5,P)

Color

Mahogany (4,5,P)

M267-0387

Call for Price

Pro-Mark Markers-Cherry/Fruitwood (3,5,P)

Color

Cherry/Fruitwood (3,5,P)

M267-0388

Call for Price

Pro-Mark Markers-Salem Maple (4,5)

Color

Salem Maple (4,5)

M267-0406

Call for Price

Pro-Mark Markers-Cherry (3,5,P)

Color

Cherry (3,5,P)

M267-0408

Call for Price

Pro-Mark Markers-Nutmeg (2,5,P)

Color

Nutmeg (2,5,P)

M267-0411

Call for Price

Pro-Mark Markers-Mocha Brown (1,3,5,P)

Color

Mocha Brown (1,3,5,P)

M267-0418

Call for Price

Pro-Mark Markers-SYY Green

Color

SYY Green

M267-0456

Call for Price

Pro-Mark Markers-SYY Red

Color

SYY Red

M267-0457

Call for Price

Pro-Mark Markers-Warm Oak (1,3,5,P)

Color

Warm Oak (1,3,5,P)

M267-0474

Call for Price

Pro-Mark Markers-Natural Maple 9731231/Natural SWP/Hazelnut SWP (1,4,5,P)

Color

Natural Maple 9731231/Natural SWP/Hazelnut SWP (1,4,5,P)

M267-0477

Call for Price

Pro-Mark Markers-Maple Glaze (1,3,5,P)

Color

Maple Glaze (1,3,5,P)

M267-0479

Call for Price

Pro-Mark Markers-Brown Paprika (1,2,5)

Color

Brown Paprika (1,2,5)

M267-0484

Call for Price

Pro-Mark Markers-Van Dyke Brown (2,5,P)

Color

Van Dyke Brown (2,5,P)

M267-1478

Call for Price

Pro-Mark Markers-Pine (4,5,P)

Color

Pine (4,5,P)

M267-1516

Call for Price

Pro-Mark Markers-Light Grey

Color

Light Grey

M267-2024

Call for Price

Pro-Mark Markers-Medium Grey

Color

Medium Grey

M267-2025

Call for Price

Pro-Mark Markers-Warm Grey

Color

Warm Grey

M267-2026

Call for Price

Pro-Mark Markers-Medium Dark Oak (2,5,P)

Color

Medium Dark Oak (2,5,P)

M267-2052

Call for Price

Pro-Mark Markers-Coffee (7)

Color

Coffee (7)

M267-4000

Call for Price

Pro-Mark Markers-Saddle (7)

Color

Saddle (7)

M267-4001

Call for Price
Assortments:
Description

Color

Product #

Price

Quantity

Action

Description

Pro-Mark Markers-12 Assortment #1 (1)

Color

12 Assortment #1 (1)

Product #

M267-1202

Price

Call for Price

Description

Pro-Mark Markers-12 Assortment #2 (2)

Color

12 Assortment #2 (2)

Product #

M267-1204

Price

Call for Price

Description

Pro-Mark Markers-12 Assortment #3 (3)

Color

12 Assortment #3 (3)

Product #

M267-1206

Price

Call for Price

Description

Pro-Mark Markers-12 Assortment #4 (4)

Color

12 Assortment #4 (4)

Product #

M267-1208

Price

Call for Price

Description

Pro-Mark Markers-36 Assortment (5)

Color

36 Assortment (5)

Product #

M267-3600

Price

Call for Price