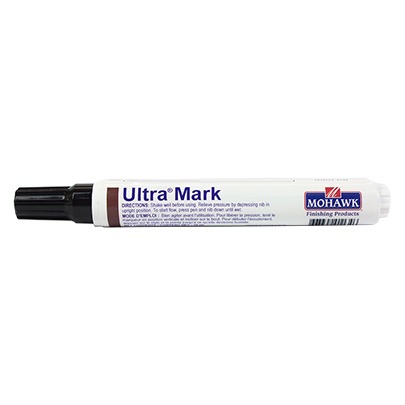 Mohawk Individual Ultra Mark Markers
If you can write, you can touch-up furniture defects instantly! Contains light-fast pigments which seal, stain and finish – in one easy operation. Ideal for edge and scratch recoloring. Compatible with all types of finishes. Use in conjunction with Mohawk Fil-Stik® Putty Sticks and E-Z FIow™ Burn-In Sticks. For further protection, can be sprayed over with Tone Finish Clears as well as other lacquers, acrylics, varnishes and urethanes. There are four different style replacement nibs available, chisel point, writing point, bullet point and metallic chisel point. Custom color matching available.
⚠WARNING: Cancer Harm – www.P65Warnings.ca.gov. Applies to these product(s).
To get more information regarding these products see Technical Data Sheet
For a sample chart of all 260 available colors see Stain Chart.
Description

Color

Product #

Price

Quantity

Action

Ultra Mark Markers-Extra Dark Walnut/SM Hazelnut (4,5,6)

Color

Extra Dark Walnut/SM Hazelnut (4,5,6)

M280-0001

Call for Price

Ultra Mark Markers-Black (4,5,6)

Color

Black (4,5,6)

M280-0002

Call for Price

Ultra Mark Markers-Brown Mahogany #2 (6)

Color

Brown Mahogany #2 (6)

M280-0003

Call for Price

Ultra Mark Markers-Cherry (4,5,6)

Color

Cherry (4,5,6)

M280-0004

Call for Price

Ultra Mark Markers-Lt. Golden Oak #2 (6)

Color

Lt. Golden Oak #2 (6)

M280-0005

Call for Price

Ultra Mark Markers-Pine #2/Caramel/Harvest/Toffee (6)

Color

Pine #2/Caramel/Harvest/Toffee (6)

M280-0006

Call for Price

Ultra Mark Markers-Almond #2 (6)

Color

Almond #2 (6)

M280-0007

Call for Price

Ultra Mark Markers-Deep Cherry (6)

Color

Deep Cherry (6)

M280-0008

Call for Price

Ultra Mark Markers-Heritage Cherry (6)

Color

Heritage Cherry (6)

M280-0009

Call for Price

Ultra Mark Markers-Old World Mahogany (6)

Color

Old World Mahogany (6)

M280-0010

Call for Price

Ultra Mark Markers-Rich Walnut/Mocha (6)

Color

Rich Walnut/Mocha (6)

M280-0011

Call for Price

Ultra Mark Markers-Espresso

Color

Espresso

M280-00116

Call for Price

Ultra Mark Markers-Traditional Cherry/Brittany/Burgundy (4,5,6)

Color

Traditional Cherry/Brittany/Burgundy (4,5,6)

M280-0012

Call for Price

Ultra Mark Markers-Traditional Walnut/Java (6)

Color

Traditional Walnut/Java (6)

M280-0013

Call for Price

Ultra Mark Markers-Light Oak (5,6)

Color

Light Oak (5,6)

M280-0014

Call for Price

Ultra Mark Markers-Dark Red Mahogany (4,5,6)

Color

Dark Red Mahogany (4,5,6)

M280-0015

Call for Price

Ultra Mark Markers-SM Marshmallow Cream

Color

SM Marshmallow Cream

M280-0016

Call for Price

Ultra Mark Markers-SM Slate/Morel (8)

Color

SM Slate/Morel (8)

M280-0017

Call for Price

Ultra Mark Markers-Rich Cherry/Cayenne (4,5,6)

Color

Rich Cherry/Cayenne (4,5,6)

M280-0022

Call for Price

Ultra Mark Markers-Spice Oak (6)

Color

Spice Oak (6)

M280-0023

Call for Price

Ultra Mark Markers-Pine (4,5,6)

Color

Pine (4,5,6)

M280-0024

Call for Price

Ultra Mark Markers-Dove

Color

Dove

M280-0028

Call for Price

Ultra Mark Markers-Grey Maple (8)

Color

Grey Maple (8)

M280-0029

Call for Price

Ultra Mark Markers-Antique White (4,5,6)

Color

Antique White (4,5,6)

M280-0031

Call for Price

Ultra Mark Markers-Driftwood KMC #SN372

Color

Driftwood KMC #SN372

M280-0058

Call for Price

Ultra Mark Markers-Blue Ridge KMC #SN390

Color

Blue Ridge KMC #SN390

M280-0066

Call for Price

Ultra Mark Markers-Royal Sapphire KMC #SN340

Color

Royal Sapphire KMC #SN340

M280-0071

Call for Price

Ultra Mark Markers-Argent Oak

Color

Argent Oak

M280-0080

Call for Price

Ultra Mark Markers-Silver Elm

Color

Silver Elm

M280-0081

Call for Price

Ultra Mark Markers-Natural (5,6)

Color

Natural (5,6)

M280-0102

Call for Price

Ultra Mark Markers-Flagstone (8)

Color

Flagstone (8)

M280-0103

Call for Price

Ultra Mark Markers-Clay

Color

Clay

M280-0104

Call for Price

Ultra Mark Markers-Mineral

Color

Mineral

M280-0105

Call for Price

Ultra Mark Markers-Bark

Color

Bark

M280-0106

Call for Price

Ultra Mark Markers-Modern Gray (8)

Color

Modern Gray (8)

M280-0122

Call for Price

Ultra Mark Markers-Natural/Honey Spice (6)

Color

Natural/Honey Spice (6)

M280-0123

Call for Price

Ultra Mark Markers-Accessible Beige

Color

Accessible Beige

M280-0124

Call for Price

Ultra Mark Markers-Urban Gray (8)

Color

Urban Gray (8)

M280-0134

Call for Price

Ultra Mark Markers-Navel Blue

Color

Navel Blue

M280-0140

Call for Price

Ultra Mark Markers-Raw Umber (1,6)

Color

Raw Umber (1,6)

M280-0143

Call for Price

Ultra Mark Markers-Dovetail Gray (8)

Color

Dovetail Gray (8)

M280-0148

Call for Price

Ultra Mark Markers-Sable

Color

Sable

M280-0149

Call for Price

Ultra Mark Markers-Coffee

Color

Coffee

M280-0150

Call for Price

Ultra Mark Markers-WW Espresso (7)

Color

WW Espresso (7)

M280-0151

Call for Price

Ultra Mark Markers-Silas

Color

Silas

M280-0152

Call for Price

Ultra Mark Markers-Red Cherry

Color

Red Cherry

M280-0169

Call for Price

Ultra Mark Markers-Cocoa

Color

Cocoa

M280-0170

Call for Price

Ultra Mark Markers-Sea Gull

Color

Sea Gull

M280-0175

Call for Price

Ultra Mark Markers-Carbon

Color

Carbon

M280-0176

Call for Price

Ultra Mark Markers-Spice

Color

Spice

M280-0177

Call for Price

Ultra Mark Markers-Heatherstone

Color

Heatherstone

M280-0178

Call for Price

Ultra Mark Markers-River Rock

Color

River Rock

M280-0179

Call for Price

Ultra Mark Markers-Medium Cherry

Color

Medium Cherry

M280-0180

Call for Price

Ultra Mark Markers-Mindful Gray

Color

Mindful Gray

M280-0181

Call for Price

Ultra Mark Markers-WW Cashmere

Color

WW Cashmere

M280-0182

Call for Price

Ultra Mark Markers-Autumn

Color

Autumn

M280-0191

Call for Price

Ultra Mark Markers-Espresso

Color

Espresso

M280-0193

Call for Price

Ultra Mark Markers-Harvest

Color

Harvest

M280-0194

Call for Price

Ultra Mark Markers-Peppercorn Gray Wash

Color

Peppercorn Gray Wash

M280-0195

Call for Price

Ultra Mark Markers-Rockport Gray Wash/SM Tarragon

Color

Rockport Gray Wash/SM Tarragon

M280-0197

Call for Price

Ultra Mark Markers-Natural Light Oak/Chestnut (4,5,6)

Color

Natural Light Oak/Chestnut (4,5,6)

M280-0200

Call for Price

Ultra Mark Markers-Bordeaux

Color

Bordeaux

M280-0201

Call for Price

Ultra Mark Markers-White (1,4,5,6)

Color

White (1,4,5,6)

M280-0202

Call for Price

Ultra Mark Markers-Cadet

Color

Cadet

M280-0203

Call for Price

Ultra Mark Markers-Harbor WW

Color

Harbor WW

M280-0204

Call for Price

Ultra Mark Markers-Medium Walnut/Nutmeg (4,5,6)

Color

Medium Walnut/Nutmeg (4,5,6)

M280-0205

Call for Price

Ultra Mark Markers-Lt. Walnut (5,6)

Color

Lt. Walnut (5,6)

M280-0206

Call for Price

Ultra Mark Markers-American Walnut (5,6)

Color

American Walnut (5,6)

M280-0207

Call for Price

Ultra Mark Markers-Extra Dark Walnut #2 (1,4,5,6)

Color

Extra Dark Walnut #2 (1,4,5,6)

M280-0209

Call for Price

Ultra Mark Markers-Storm Cloud KMC SN349

Color

Storm Cloud KMC SN349

M280-0211

Call for Price

Ultra Mark Markers-Cherry Slate

Color

Cherry Slate

M280-0215

Call for Price

Ultra Mark Markers-Lt. Red Mahogany (1,5,6)

Color

Lt. Red Mahogany (1,5,6)

M280-0218

Call for Price

Ultra Mark Markers-Honey/Carmel/Butterscotch (1,6)

Color

Honey/Carmel/Butterscotch (1,6)

M280-0221

Call for Price

Ultra Mark Markers-Pecan SWP

Color

Pecan SWP

M280-0223

Call for Price

Ultra Mark Markers-Black #2 (1,4,5,6)

Color

Black #2 (1,4,5,6)

M280-0224

Call for Price

Ultra Mark Markers-Dk. Rd. Mahogany #2 (1,4,5,6)

Color

Dk. Rd. Mahogany #2 (1,4,5,6)

M280-0227

Call for Price

Ultra Mark Markers-Brown Mahogany (4,5,6)

Color

Brown Mahogany (4,5,6)

M280-0229

Call for Price

Ultra Mark Markers-Truffle Oak SWP

Color

Truffle Oak SWP

M280-0233

Call for Price

Ultra Mark Markers-Medium Dark Walnut/Cider Cherry 12564969 (4,5,6)

Color

Medium Dark Walnut/Cider Cherry 12564969 (4,5,6)

M280-0234

Call for Price

Ultra Mark Markers-Truffle QS Oak SWP

Color

Truffle QS Oak SWP

M280-0235

Call for Price

Ultra Mark Markers-Brown Maple (1,4,5,6)

Color

Brown Maple (1,4,5,6)

M280-0236

Call for Price

Ultra Mark Markers-Truffle Hickory SWP

Color

Truffle Hickory SWP

M280-0237

Call for Price

Ultra Mark Markers-Truffle Cherry SWP

Color

Truffle Cherry SWP

M280-0238

Call for Price

Ultra Mark Markers-Sienna SWP

Color

Sienna SWP

M280-0248

Call for Price

Ultra Mark Markers-Perfect Brown (4,5,6)

Color

Perfect Brown (4,5,6)

M280-0249

Call for Price

Ultra Mark Markers-Driftwood SWP

Color

Driftwood SWP

M280-0250

Call for Price

Ultra Mark Markers-Cayenne SWP

Color

Cayenne SWP

M280-0251

Call for Price

Ultra Mark Markers-Merlot SWP

Color

Merlot SWP

M280-0252

Call for Price

Ultra Mark Markers-Russet SWP

Color

Russet SWP

M280-0253

Call for Price

Ultra Mark Markers-Coffee SWP

Color

Coffee SWP

M280-0254

Call for Price

Ultra Mark Markers-Midnight SWP HI OA CH RA

Color

Midnight SWP HI OA CH RA

M280-0255

Call for Price

Ultra Mark Markers-Brandy SWP

Color

Brandy SWP

M280-0256

Call for Price

Ultra Mark Markers-Tawny SWP

Color

Tawny SWP

M280-0257

Call for Price

Ultra Mark Markers-Dusk SWP MA OA RA

Color

Dusk SWP MA OA RA

M280-0258

Call for Price

Ultra Mark Markers-Cherry Autumn

Color

Cherry Autumn

M280-0267

Call for Price

Ultra Mark Markers-Modern Mahogany (6)

Color

Modern Mahogany (6)

M280-0273

Call for Price

Ultra Mark Markers-Antique White/Divine White SWP

Color

Antique White/Divine White SWP

M280-0275

Call for Price

Ultra Mark Markers-Cognac SWP

Color

Cognac SWP

M280-0279

Call for Price

Ultra Mark Markers-Amber SWP

Color

Amber SWP

M280-0280

Call for Price

Ultra Mark Markers-Maple Rye

Color

Maple Rye

M280-0286

Call for Price

Ultra Mark Markers-Fontana – New/Harvest (5,6)

Color

Fontana - New/Harvest (5,6)

M280-0300

Call for Price

Ultra Mark Markers-Warm Cherry (5,6)

Color

Warm Cherry (5,6)

M280-0308

Call for Price

Ultra Mark Markers-Pickle Frost

Color

Pickle Frost

M280-0324

Call for Price

Ultra Mark Markers-Golden Oak (6)

Color

Golden Oak (6)

M280-0337

Call for Price

Ultra Mark Markers-Walnut (6)

Color

Walnut (6)

M280-0359

Call for Price

Ultra Mark Markers-Mahogany Cherry (5,6)

Color

Mahogany Cherry (5,6)

M280-0381

Call for Price

Ultra Mark Markers-Deep Cordovan (6)

Color

Deep Cordovan (6)

M280-0385

Call for Price

Ultra Mark Markers-Universal Cherry (4,5,6)

Color

Universal Cherry (4,5,6)

M280-0391

Call for Price

Ultra Mark Markers-Almond

Color

Almond

M280-0401

Call for Price

Ultra Mark Markers-Cherry BG (1,4, 5,6)

Color

Cherry BG (1,4, 5,6)

M280-0408

Call for Price

Ultra Mark Markers-Nutmeg (1,4,5,6)

Color

Nutmeg (1,4,5,6)

M280-0411

Call for Price

Ultra Mark Markers-Lt. Golden Oak (1,6)

Color

Lt. Golden Oak (1,6)

M280-0415

Call for Price

Ultra Mark Markers-Van Dyke Brown/Cappucino (4,5,6)

Color

Van Dyke Brown/Cappucino (4,5,6)

M280-1478

Call for Price

Ultra Mark Markers-Aegean Mist

Color

Aegean Mist

M280-1500

Call for Price

Ultra Mark Markers-Eggnog

Color

Eggnog

M280-1502

Call for Price

Ultra Mark Markers-English Ivy (Grn)

Color

English Ivy (Grn)

M280-1503

Call for Price

Ultra Mark Markers-Ivory Creme

Color

Ivory Creme

M280-1504

Call for Price

Ultra Mark Markers-Moss Green

Color

Moss Green

M280-1505

Call for Price

Ultra Mark Markers-Buttercreme

Color

Buttercreme

M280-1506

Call for Price

Ultra Mark Markers-Mushroom

Color

Mushroom

M280-1507

Call for Price

Ultra Mark Markers-Pearl

Color

Pearl

M280-1508

Call for Price

Ultra Mark Markers-Royal Blue

Color

Royal Blue

M280-1509

Call for Price

Ultra Mark Markers-Statesman Oak #2 (1,6)

Color

Statesman Oak #2 (1,6)

M280-1522

Call for Price

Ultra Mark Markers-Statesman Oak (6)

Color

Statesman Oak (6)

M280-1523

Call for Price

Ultra Mark Markers-Hazelnut Glaze (5,6)

Color

Hazelnut Glaze (5,6)

M280-1525

Call for Price

Ultra Mark Markers-Peppercorn

Color

Peppercorn

M280-1530

Call for Price

Ultra Mark Markers-Stone

Color

Stone

M280-2000

Call for Price

Ultra Mark Markers-Ash

Color

Ash

M280-2001

Call for Price

Ultra Mark Markers-Biscotti W/Coconut 9731200BG

Color

Biscotti W/Coconut 9731200BG

M280-3009

Call for Price

Ultra Mark Markers-Nichol Glaze UC

Color

Nichol Glaze UC

M280-3114

Call for Price

Ultra Mark Markers-Black UC

Color

Black UC

M280-3139

Call for Price

Ultra Mark Markers-Vanilla Bean Glaze 9731200VG

Color

Vanilla Bean Glaze 9731200VG

M280-3361

Call for Price

Ultra Mark Markers-Rustic Cherry Chocolate UC

Color

Rustic Cherry Chocolate UC

M280-3492

Call for Price

Ultra Mark Markers-AWC White

Color

AWC White

M280-3527

Call for Price

Ultra Mark Markers-Canvas 9731200CVM

Color

Canvas 9731200CVM

M280-3611

Call for Price

Ultra Mark Markers-Biscotti 9731200BSO

Color

Biscotti 9731200BSO

M280-3612

Call for Price

Ultra Mark Markers-Mark Beech White UC

Color

Mark Beech White UC

M280-3617

Call for Price

Ultra Mark Markers-Stone UC

Color

Stone UC

M280-3618

Call for Price

Ultra Mark Markers-Torino Sable Walnut UC

Color

Torino Sable Walnut UC

M280-3673

Call for Price

Ultra Mark Markers-Sorrento Autumn Walnut UC

Color

Sorrento Autumn Walnut UC

M280-3825

Call for Price

Ultra Mark Markers-Brown Linen Light UC

Color

Brown Linen Light UC

M280-3899

Call for Price

Ultra Mark Markers-Mushroom 9731200A12

Color

Mushroom 9731200A12

M280-3940

Call for Price

Ultra Mark Markers-Willow W/Cocoa 9731200A19

Color

Willow W/Cocoa 9731200A19

M280-3943

Call for Price

Ultra Mark Markers-Dove White W/Cocoa 9731200A15

Color

Dove White W/Cocoa 9731200A15

M280-3944

Call for Price

Ultra Mark Markers-Cherry Paprika 12564993/9279134 (7)

Color

Cherry Paprika 12564993/9279134 (7)

M280-4000

Call for Price

Ultra Mark Markers-O/H Lt. Natural 12565131/3080983 (7)

Color

O/H Lt. Natural 12565131/3080983 (7)

M280-4001

Call for Price

Ultra Mark Markers-Medium Oak 1087204 (7)

Color

Medium Oak 1087204 (7)

M280-4002

Call for Price

Ultra Mark Markers-Oak/Hickory Cider 12565123/6050223 (7)

Color

Oak/Hickory Cider 12565123/6050223 (7)

M280-4003

Call for Price

Ultra Mark Markers-Chickory 9731200CG (7)

Color

Chickory 9731200CG (7)

M280-4004

Call for Price

Ultra Mark Markers-Black Glaze 9731200EG (7)

Color

Black Glaze 9731200EG (7)

M280-4005

Call for Price

Ultra Mark Markers-Toffee 9731200TF (7)

Color

Toffee 9731200TF (7)

M280-4006

Call for Price

Ultra Mark Markers-Patina Glaze 9731200PA (7)

Color

Patina Glaze 9731200PA (7)

M280-4007

Call for Price

Ultra Mark Markers-Artisian Bronze 12565099/4872883 (7)

Color

Artisian Bronze 12565099/4872883 (7)

M280-4008

Call for Price

Ultra Mark Markers-Ebony Mist 12564985/4872818 (7)

Color

Ebony Mist 12564985/4872818 (7)

M280-4009

Call for Price

Ultra Mark Markers-Maple Paprika 12565057/2214658 (7)

Color

Maple Paprika 12565057/2214658 (7)

M280-4010

Call for Price

Ultra Mark Markers-Med. Brown Glaze 7182926 (7)

Color

Med. Brown Glaze 7182926 (7)

M280-4011

Call for Price

Ultra Mark Markers-Kaffe 9731200KA (7)

Color

Kaffe 9731200KA (7)

M280-4012

Call for Price

Ultra Mark Markers-Cognac Maple 9731200COM (7)

Color

Cognac Maple 9731200COM (7)

M280-4013

Call for Price

Ultra Mark Markers-Cognac Hickory 9731200COH (7)

Color

Cognac Hickory 9731200COH (7)

M280-4014

Call for Price

Ultra Mark Markers-Spice Maple 9731200SPM (7)

Color

Spice Maple 9731200SPM (7)

M280-4015

Call for Price

Ultra Mark Markers-Peppercorn 9731200PPC (7)

Color

Peppercorn 9731200PPC (7)

M280-4016

Call for Price

Ultra Mark Markers-Praline 9731200PRL (7)

Color

Praline 9731200PRL (7)

M280-4017

Call for Price

Ultra Mark Markers-Maple Sable 12565065/7538325 (7)

Color

Maple Sable 12565065/7538325 (7)

M280-4018

Call for Price

Ultra Mark Markers-Sunrise (7)

Color

Sunrise (7)

M280-4019

Call for Price

Ultra Mark Markers-Dawn (7)

Color

Dawn (7)

M280-4020

Call for Price

Ultra Mark Markers-Paprika (7)

Color

Paprika (7)

M280-4021

Call for Price

Ultra Mark Markers-Burgundy (7)

Color

Burgundy (7)

M280-4022

Call for Price

Ultra Mark Markers-Cordovan (7)

Color

Cordovan (7)

M280-4023

Call for Price

Ultra Mark Markers-Cafe/SM Rye (7)

Color

Cafe/SM Rye (7)

M280-4024

Call for Price

Ultra Mark Markers-Natural Maple (7)

Color

Natural Maple (7)

M280-4025

Call for Price

Ultra Mark Markers-Praline (7)

Color

Praline (7)

M280-4026

Call for Price

Ultra Mark Markers-Nutmeg/Butterscotch (7)

Color

Nutmeg/Butterscotch (7)

M280-4027

Call for Price

Ultra Mark Markers-Mirage (7)

Color

Mirage (7)

M280-4028

Call for Price

Ultra Mark Markers-Spice (7)

Color

Spice (7)

M280-4029

Call for Price

Ultra Mark Markers-Chestnut (7)

Color

Chestnut (7)

M280-4030

Call for Price

Ultra Mark Markers-Royal (7)

Color

Royal (7)

M280-4031

Call for Price

Ultra Mark Markers-Eventide (7)

Color

Eventide (7)

M280-4032

Call for Price

Ultra Mark Markers-Mocha (7)

Color

Mocha (7)

M280-4033

Call for Price

Ultra Mark Markers-Sedona Maple 12565081/6223341 (7)

Color

Sedona Maple 12565081/6223341 (7)

M280-4034

Call for Price

Ultra Mark Markers-English Saddle 12565073/8906448 (7)

Color

English Saddle 12565073/8906448 (7)

M280-4035

Call for Price

Ultra Mark Markers-Clove (7)

Color

Clove (7)

M280-4036

Call for Price

Ultra Mark Markers-Paprika 9731200PKM (7)

Color

Paprika 9731200PKM (7)

M280-4037

Call for Price

Ultra Mark Markers-Toasted Cinnamon 9731200TCM (7)

Color

Toasted Cinnamon 9731200TCM (7)

M280-4038

Call for Price

Ultra Mark Markers-Cinnamon 9731200CNAC (7)

Color

Cinnamon 9731200CNAC (7)

M280-4039

Call for Price

Ultra Mark Markers-Natural Cherry (7)

Color

Natural Cherry (7)

M280-4040

Call for Price

Ultra Mark Markers-Kona 12565024/11924412 (7)

Color

Kona 12565024/11924412 (7)

M280-4041

Call for Price

Ultra Mark Markers-Cinnamon (7)

Color

Cinnamon (7)

M280-4042

Call for Price

Ultra Mark Markers-Amaretto 15663230 (7)

Color

Amaretto 15663230 (7)

M280-4043

Call for Price

Ultra Mark Markers-Parchment 9731200A23 (7)

Color

Parchment 9731200A23 (7)

M280-4044

Call for Price

Ultra Mark Markers-Rye Maple 9731200A28 (7)

Color

Rye Maple 9731200A28 (7)

M280-4045

Call for Price

Ultra Mark Markers-Rye 9731200A26 (7)

Color

Rye 9731200A26 (7)

M280-4046

Call for Price

Ultra Mark Markers-Slate 9731200SLT (7)

Color

Slate 9731200SLT (7)

M280-4047

Call for Price

Ultra Mark Markers-Golden Lager 9731200GL (7)

Color

Golden Lager 9731200GL (7)

M280-4048

Call for Price

Ultra Mark Markers-Chiffon/Cashmere 150530107

Color

Chiffon/Cashmere 150530107

M280-4049

Call for Price

Ultra Mark Markers-Dove White 9731200DWM (7)

Color

Dove White 9731200DWM (7)

M280-4050

Call for Price

Ultra Mark Markers-Truffle UC/Creekside

Color

Truffle UC/Creekside

M280-4051

Call for Price

Ultra Mark Markers-Greyloft W/Sable 9731200B66M/Flagstone SWP/Sterling (8)

Color

Greyloft W/Sable 9731200B66M/Flagstone SWP/Sterling (8)

M280-4250

Call for Price

Ultra Mark Markers-Midnight W/Onyx 9731200B70M

Color

Midnight W/Onyx 9731200B70M

M280-4254

Call for Price

Ultra Mark Markers-Husk 9731200B82O

Color

Husk 9731200B82O

M280-4379

Call for Price

Ultra Mark Markers-Pebble Grey 9731200B83M (8)

Color

Pebble Grey 9731200B83M (8)

M280-4380

Call for Price

Ultra Mark Markers-Melted Brie UC

Color

Melted Brie UC

M280-4451

Call for Price

Ultra Mark Markers-Rag and Bone UC (8)

Color

Rag and Bone UC (8)

M280-4455

Call for Price

Ultra Mark Markers-Lunar Gray UC (8)

Color

Lunar Gray UC (8)

M280-4457

Call for Price

Ultra Mark Markers-Hazel 9731200C116C

Color

Hazel 9731200C116C

M280-4480

Call for Price

Ultra Mark Markers-Chai 9731200C29M

Color

Chai 9731200C29M

M280-4481

Call for Price

Ultra Mark Markers-Silk AW

Color

Silk AW

M280-5000

Call for Price

Ultra Mark Markers-MPLIN/Maple Linen AW

Color

MPLIN/Maple Linen AW

M280-5001

Call for Price

Ultra Mark Markers-SM Driftwood

Color

SM Driftwood

M280-9849

Call for Price

Ultra Mark Markers-SM Graphite (6)

Color

SM Graphite (6)

M280-9850

Call for Price

Ultra Mark Markers-Dk. Fruitwood (6)

Color

Dk. Fruitwood (6)

M280-D404

Call for Price

Ultra Mark Markers-Lt. Fruitwood (6)

Color

Lt. Fruitwood (6)

M280-L404

Call for Price

Ultra Mark Markers-Natural Maple (6)

Color

Natural Maple (6)

M280-N360

Call for Price

Ultra Mark Markers-Charcoal (6)

Color

Charcoal (6)

M281-0003

Call for Price

Ultra Mark Markers-Hunter Green

Color

Hunter Green

M281-0007

Call for Price

Ultra Mark Markers-White Sand

Color

White Sand

M281-0011

Call for Price

Ultra Mark Markers-Intense Champagne (6)

Color

Intense Champagne (6)

M281-0013

Call for Price

Ultra Mark Markers-Innsbruck White (6)

Color

Innsbruck White (6)

M281-0014

Call for Price

Ultra Mark Markers-Bay/Honey (4,5,6)

Color

Bay/Honey (4,5,6)

M281-0057

Call for Price

Ultra Mark Markers-Antique Gold Metallic

Color

Antique Gold Metallic

M281-0109

Call for Price

Ultra Mark Markers-American Green

Color

American Green

M281-0314

Call for Price

Ultra Mark Markers-Nutmeg Cherry (5,6)

Color

Nutmeg Cherry (5,6)

M281-0320

Call for Price

Ultra Mark Markers-Lt. Champagne

Color

Lt. Champagne

M281-0335

Call for Price

Ultra Mark Markers-Oak/Hickory/Nutmeg 2394500 (6)

Color

Oak/Hickory/Nutmeg 2394500 (6)

M281-0336

Call for Price

Ultra Mark Markers-Whitewash (6)

Color

Whitewash (6)

M281-0403

Call for Price

Ultra Mark Markers-Silver Metallic (6)

Color

Silver Metallic (6)

M281-0436

Call for Price

Ultra Mark Markers-Piano Gold

Color

Piano Gold

M281-0437

Call for Price

Ultra Mark Markers-Bright Gold

Color

Bright Gold

M281-0439

Call for Price

Ultra Mark Markers-Driftwood (5,6)

Color

Driftwood (5,6)

M281-0503

Call for Price

Ultra Mark Markers-White Melamine #2 (6)

Color

White Melamine #2 (6)

M281-0688

Call for Price

Ultra Mark Markers-Graphite

Color

Graphite

M281-0945

Call for Price

Ultra Mark Markers-Medium Grey (6)

Color

Medium Grey (6)

M281-1479

Call for Price

Ultra Mark Markers-American Hewn-White

Color

American Hewn-White

M281-3144

Call for Price

Ultra Mark Markers-American Hewn-Red

Color

American Hewn-Red

M281-3145

Call for Price

Ultra Mark Markers-SY Casual Blue 4469

Color

SY Casual Blue 4469

M281-3147

Call for Price

Ultra Mark Markers-Country French Parisian Blue

Color

Country French Parisian Blue

M281-3149

Call for Price

Ultra Mark Markers-SY Casual Straw 4469

Color

SY Casual Straw 4469

M281-3150

Call for Price

Ultra Mark Markers-SY Casual Porch 4469

Color

SY Casual Porch 4469

M281-3151

Call for Price

Ultra Mark Markers-SY Casual Cottage Green 4469

Color

SY Casual Cottage Green 4469

M281-3152

Call for Price

Ultra Mark Markers-Blue

Color

Blue

M281-3153

Call for Price

Ultra Mark Markers-Fawn

Color

Fawn

M281-3154

Call for Price

Ultra Mark Markers-Soumi Interior

Color

Soumi Interior

M281-3155

Call for Price

Ultra Mark Markers-Tuscany

Color

Tuscany

M281-3156

Call for Price

Ultra Mark Markers-Frost

Color

Frost

M281-3272

Call for Price

Ultra Mark Markers-Silk Background

Color

Silk Background

M281-5027

Call for Price

Ultra Mark Markers-Ironstone

Color

Ironstone

M281-5028

Call for Price

Ultra Mark Markers-Driftwood #2

Color

Driftwood #2

M281-5029

Call for Price

Ultra Mark Markers-Cherry Saratoga (5,6)

Color

Cherry Saratoga (5,6)

M281-6205

Call for Price

Ultra Mark Markers-Maple Fonder

Color

Maple Fonder

M281-6350

Call for Price

Ultra Mark Markers-Charter Oak

Color

Charter Oak

M281-6355

Call for Price

Ultra Mark Markers-White Melamine #1 (6)

Color

White Melamine #1 (6)

M281-6383

Call for Price

Ultra Mark Markers-Villandry

Color

Villandry

M281-6580

Call for Price

Ultra Mark Markers-Soumi

Color

Soumi

M281-6837

Call for Price

Ultra Mark Markers-Olympia

Color

Olympia

M281-6934

Call for Price

Ultra Mark Markers-Terrace Place-Antique White (6)

Color

Terrace Place-Antique White (6)

M281-7690

Call for Price

Ultra Mark Markers-Pearl/Oak

Color

Pearl/Oak

M281-7694

Call for Price

Ultra Mark Markers-Sandstone

Color

Sandstone

M281-7698

Call for Price

Ultra Mark Markers-Contempo Gold

Color

Contempo Gold

M281-7700

Call for Price

Ultra Mark Markers-Maple Spice (6)

Color

Maple Spice (6)

M282-3652

Call for Price

Ultra Mark Markers-Cognac (4,5,6)

Color

Cognac (4,5,6)

M282-3653

Call for Price

Ultra Mark Markers-Butterscotch Glaze (6)

Color

Butterscotch Glaze (6)

M282-3659

Call for Price

Ultra Mark Markers-Natural Maple/Amber/Rattan

Color

Natural Maple/Amber/Rattan

M282-3675

Call for Price
Description

Color

Product #

Price

Quantity

Action

Description

Ultra Mark Markers-12 Pack Standard Assortment (1)

Color

12 Pack Standard Assortment (1)

Product #

M280-1200

Price

Call for Price

Description

Ultra Mark Markers-12 Pack Gray Assortment (8)

Color

12 Pack Gray Assortment (8)

Product #

M280-1210

Price

Call for Price

Description

Ultra Mark Markers-24 Pack Assortment (4)

Color

24 Pack Assortment (4)

Product #

M280-2401

Price

Call for Price

Description

Ultra Mark Markers-36 Pack Assortment (5)

Color

36 Pack Assortment (5)

Product #

M280-3600

Price

Call for Price

Description

Ultra Mark Markers-72 Pack Assortment (7)

Color

72 Pack Assortment (7)

Product #

M280-4720

Price

Call for Price

Description

Ultra Mark Markers-72 Pack Assortment (6)

Color

72 Pack Assortment (6)

Product #

M280-7200

Price

Call for Price