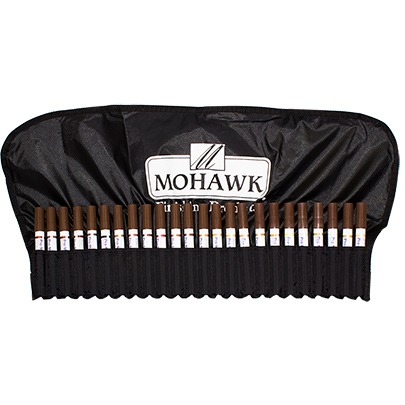 Mohawk Pro-Mark Markers 24 Assortment with Pouch
Keeps your Pro-Mark® Touch-Up Markers organized. Made of heavy-duty nylon. Color selection is always visible. Easy to carry pouch that holds 24 Pro-Mark® Markers. Rolls up and ties for easy handling. Great for in the shop or on the truck.
⚠WARNING: Cancer Harm – www.P65Warnings.ca.gov. Applies to these product(s).
To see all included colors in this Pouch, see Information Sheet
To get more information regarding these products see Technical Data Sheet
For a sample chart of all 68 available colors, to include those within this Pouch (P), see Stain Chart.
Description

Product #

Price

Quantity

Action

Pro-Mark® Marker Pouch 24 Assortment (P-see Info from Pro Wood)

M267-2680

Call for Price

Empty Pouch

M959-2674

Call for Price
Included Colors:
Description

Color

Product #

Price

Quantity

Action

Description

Pro-Mark Markers-Natural Ash (2,5,P)

Color

Natural Ash (2,5,P)

Product #

M267-0003

Price

Call for Price

Description

Pro-Mark Markers-Light Oak (3,5,P)

Color

Light Oak (3,5,P)

Product #

M267-0004

Price

Call for Price

Description

Pro-Mark Markers-Honey Maple (1,2,5,P)

Color

Honey Maple (1,2,5,P)

Product #

M267-0063

Price

Call for Price

Description

Pro-Mark Markers-Medium Walnut/Brown Pecan (4,5,P)

Color

Medium Walnut/Brown Pecan (4,5,P)

Product #

M267-0207

Price

Call for Price

Description

Pro-Mark Markers-Extra Dark Walnut (3,5,P)

Color

Extra Dark Walnut (3,5,P)

Product #

M267-0209

Price

Call for Price

Description

Pro-Mark Markers-Black Brown (P)

Color

Black Brown (P)

Product #

M267-0223

Price

Call for Price

Description

Pro-Mark Markers-Dark Red Mahogany (4,5,P)

Color

Dark Red Mahogany (4,5,P)

Product #

M267-0227

Price

Call for Price

Description

Pro-Mark Markers-Red Brown Mahogany (2,5,P)

Color

Red Brown Mahogany (2,5,P)

Product #

M267-0246

Price

Call for Price

Description

Pro-Mark Markers-Perfect Brown (3,5,P)

Color

Perfect Brown (3,5,P)

Product #

M267-0249

Price

Call for Price

Description

Pro-Mark Markers-Light Natural Oak (2,5,P)

Color

Light Natural Oak (2,5,P)

Product #

M267-0321

Price

Call for Price

Description

Pro-Mark Markers-Golden Oak (1,4,5,P)

Color

Golden Oak (1,4,5,P)

Product #

M267-0337

Price

Call for Price

Description

Pro-Mark Markers-Medium Oak (4,5,P)

Color

Medium Oak (4,5,P)

Product #

M267-0355

Price

Call for Price

Description

Pro-Mark Markers-Dark Red Walnut (2,5,P)

Color

Dark Red Walnut (2,5,P)

Product #

M267-0363

Price

Call for Price

Description

Pro-Mark Markers-Mahogany (4,5,P)

Color

Mahogany (4,5,P)

Product #

M267-0387

Price

Call for Price

Description

Pro-Mark Markers-Cherry/Fruitwood (3,5,P)

Color

Cherry/Fruitwood (3,5,P)

Product #

M267-0388

Price

Call for Price

Description

Pro-Mark Markers-Cherry (3,5,P)

Color

Cherry (3,5,P)

Product #

M267-0408

Price

Call for Price

Description

Pro-Mark Markers-Nutmeg (2,5,P)

Color

Nutmeg (2,5,P)

Product #

M267-0411

Price

Call for Price

Description

Pro-Mark Markers-Mocha Brown (1,3,5,P)

Color

Mocha Brown (1,3,5,P)

Product #

M267-0418

Price

Call for Price

Description

Pro-Mark Markers-Warm Oak (1,3,5,P)

Color

Warm Oak (1,3,5,P)

Product #

M267-0474

Price

Call for Price

Description

Pro-Mark Markers-Natural Maple 9731231/Natural SWP/Hazelnut SWP (1,4,5,P)

Color

Natural Maple 9731231/Natural SWP/Hazelnut SWP (1,4,5,P)

Product #

M267-0477

Price

Call for Price

Description

Pro-Mark Markers-Maple Glaze (1,3,5,P)

Color

Maple Glaze (1,3,5,P)

Product #

M267-0479

Price

Call for Price

Description

Pro-Mark Markers-Van Dyke Brown (2,5,P)

Color

Van Dyke Brown (2,5,P)

Product #

M267-1478

Price

Call for Price

Description

Pro-Mark Markers-Pine (4,5,P)

Color

Pine (4,5,P)

Product #

M267-1516

Price

Call for Price

Description

Pro-Mark Markers-Medium Dark Oak (2,5,P)

Color

Medium Dark Oak (2,5,P)

Product #

M267-2052

Price

Call for Price