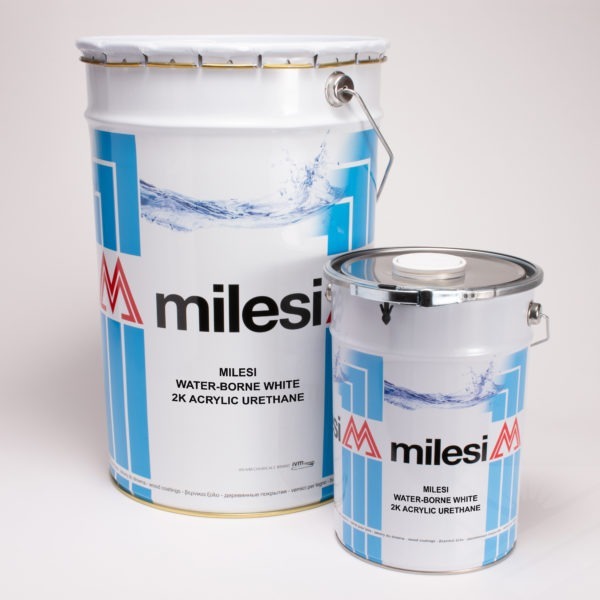 Milesi Water-Borne White 2K Acrylic Urethane
This water based, white 2K acrylic urethane coating has the moisture, abrasion, and the chemical resistance of a conversion varnish. Excellent for kitchens, vanities, and other interior applications. Superior chemical resistance and surface hardness. Comes in a variety of sheens. Meets KCMA cabinet finish requirements.
For more background on European Water-Borne technology, see Information from Pro Wood.
Description

Sheen Number

Size

Product #

Price

Quantity

Action

White Topcoat

Sheen Number

10

Size

5-litre

HKR116-5L

Call for Price

White Topcoat (special order)

Sheen Number

10

Size

25-litre

HKR116-25L

Call for Price

White Topcoat

Sheen Number

20

Size

5-litre

HKR114-5L

Call for Price

White Topcoat (special order)

Sheen Number

20

Size

25-litre

HKR114-25L

Call for Price

White Topcoat

Sheen Number

30

Size

5-litre

HKR113-5L

Call for Price

White Topcoat (special order)

Sheen Number

30

Size

25-litre

HKR113-25L

Call for Price

White Topcoat

Sheen Number

70

Size

5-litre

HKR111-5L

Call for Price

White Topcoat (special order)

Sheen Number

70

Size

25-litre

HKR111-25L

Call for Price
Hardener (10%)
Description

Size

Product #

Price

Quantity

Action

Description

Hardener for Water-Borne 40

Size

0.5 liter

Product #

HNB40-1/2L

Price

Call for Price

Description

Hardener for Water-Borne 40

Size

2.5 liter

Product #

HNB40-2.5L

Price

Call for Price
Optional Primer (single component)
Description

Size

Product #

Price

Quantity

Action

Description

White Water-Borne Primer

Size

5-litre

Product #

HBT603-5L

Price

Call for Price

Description

White Water-Borne Primer

Size

25-litre

Product #

HBT603-25L

Price

Call for Price