Download Our Brochure
You asked and we delivered!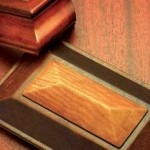 Finally there is a wood stain that provides a stunning depth of color in one easy wiping process–ProWood Finishes is proud to showcase Woodfield, a revolutionary line of top quality wood stains that performs well beyond any other stain product on the market. After much research and testing, ProWood has developed a breakthrough stain line that allows for superior pigment and dye loading capabilities, resulting in rich, dark colors, even on light woods. This reduces the need for extra dye and toner steps in the finishing process. Additionally, Woodfield's unique formula gives you more slip during application, allowing you to stain large areas and control color consistency–which means you save time, money and frustration–and most importantly, achieve the perfect outcome each and every time.
Woodfield stains large selection was developed by ProWood's veteran team of experienced finishers with the latest style trends in mind. Yet this vast palette also give you, the professional, a full set of color tools to match any architects or designers specification. Because ProWood created and produced this new line in house, there is little risk that colors you rely on, will change, or become discontinued.