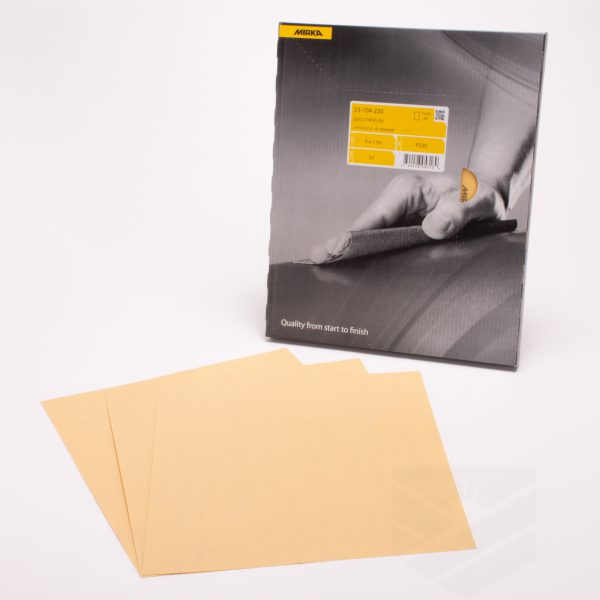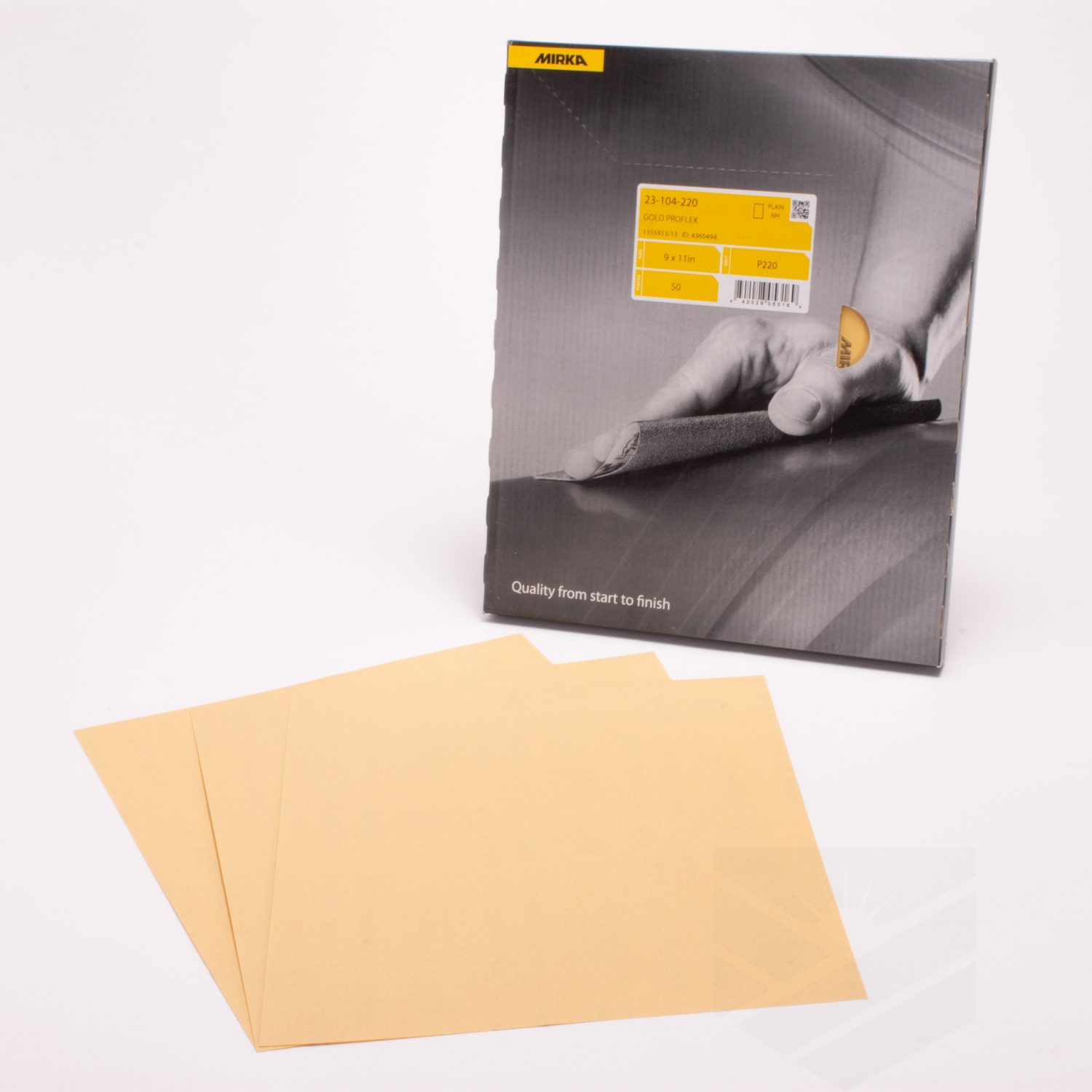 Gold ProFlex-23 Series (Mirka)
Gold ProFlex is designed for hand sanding applications. The aluminum oxide grain provides a good cut and an excellent scratch pattern. The flexible, latex-impregnated backing provides superior conformity for profile sanding. The anti-slip coating on the back side provides a solid grip and feel during sanding.
*For more information regarding this product see Information Sheet.
Description

Size

Grit

Package

Abrasive/Grain

Backing

Brand

Product #

Price

Quantity

Action

Gold ProFlex Finishing Sheet

Size

9" x 11"

Grit

80

Package

25/pkg

Abrasive/Grain

Aluminum Oxide

Backing

C wt Paper

Brand

Mirka

MRK23-104-80

Call for Price

Gold ProFlex Finishing Sheet

Size

9" x 11"

Grit

100

Package

50/pkg

Abrasive/Grain

Aluminum Oxide

Backing

C wt Paper

Brand

Mirka

MRK23-104-100

Call for Price

Gold ProFlex Finishing Sheet

Size

9" x 11"

Grit

120

Package

50/pkg

Abrasive/Grain

Aluminum Oxide

Backing

C wt Paper

Brand

Mirka

MRK23-104-120

Call for Price

Gold ProFlex Finishing Sheet

Size

9" x 11"

Grit

150

Package

50/pkg

Abrasive/Grain

Aluminum Oxide

Backing

C wt Paper

Brand

Mirka

MRK23-104-150

Call for Price

Gold ProFlex Finishing Sheet

Size

9" x 11"

Grit

180

Package

50/pkg

Abrasive/Grain

Aluminum Oxide

Backing

C wt Paper

Brand

Mirka

MRK23-104-180

Call for Price

Gold ProFlex Finishing Sheet

Size

9" x 11"

Grit

220

Package

50/pkg

Abrasive/Grain

Aluminum Oxide

Backing

B Wt Paper

Brand

Mirka

MRK23-104-220

Call for Price

Gold ProFlex Finishing Sheet (special order)

Size

9" x 11"

Grit

240

Package

50/pkg

Abrasive/Grain

Aluminum Oxide

Backing

B Wt Paper

Brand

Mirka

MRK23-104-240

Call for Price

Gold ProFlex Finishing Sheet (special order)

Size

9" x 11"

Grit

280

Package

50/pkg

Abrasive/Grain

Aluminum Oxide

Backing

B Wt Paper

Brand

Mirka

MRK23-104-280

Call for Price

Gold ProFlex Finishing Sheet

Size

9" x 11"

Grit

320

Package

50/pkg

Abrasive/Grain

Aluminum Oxide

Backing

B Wt Paper

Brand

Mirka

MRK23-104-320

Call for Price

Gold ProFlex Finishing Sheet

Size

9" x 11"

Grit

400

Package

50/pkg

Abrasive/Grain

Aluminum Oxide

Backing

B Wt Paper

Brand

Mirka

MRK23-104-400

Call for Price

Gold ProFlex Finishing Sheet (special order)

Size

9" x 11"

Grit

500

Package

50/pkg

Abrasive/Grain

Aluminum Oxide

Backing

B Wt Paper

Brand

Mirka

MRK23-104-500

Call for Price

Gold ProFlex Finishing Sheet (special order)

Size

9" x 11"

Grit

600

Package

50/pkg

Abrasive/Grain

Aluminum Oxide

Backing

B Wt Paper

Brand

Mirka

MRK23-104-600

Call for Price

Gold ProFlex Finishing Sheet (special order)

Size

9" x 11"

Grit

800

Package

50/pkg

Abrasive/Grain

Aluminum Oxide

Backing

B Wt Paper

Brand

Mirka

MRK23-104-800

Call for Price