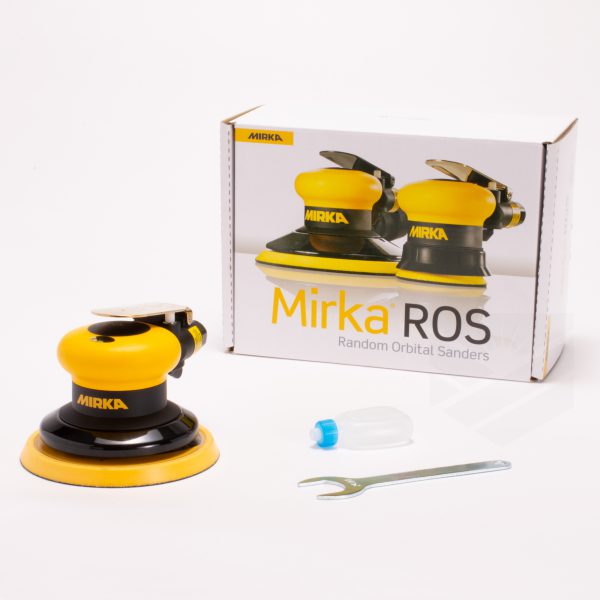 Mirka 5" Finishing Sander
This 5″ pneumatic random orbital sander with a 3/32 (2.5mm) stroke is an excellent choice for fine sanding tasks. Constructed of precision molded composites for strength and durability, while reducing operator fatigue. This construction also reduces sound for increased comfort. True 12,000 rpm performance – for maximum productivity. Counter-balanced for specific size backup pad. Features moisture-resistant composite rotors, and premium counterweight bearings for long life and superior reliability. MR-Series Sanders can be converted to vacuum operation with the addition of an external or self-generating vacuum adapter. 17 SCFM. 80 db noise level. .28 HP. Comes with: 5″ Hook Backup Pad, 24 mm Wrench, and Oil.
*To get more information on this Sander see Information Sheet.
*For this product see p. 34 in the Mirka Catalog under Info from Pro Wood
Description

Size

Product #

Price

Quantity

Action

5″ Finishing Sander with 5″ Hook Backup Pad -no holes

Size

5"

MR-525

Call for Price

5″ Finishing Sander with 5″ Vinyl Backup Pad -no holes

Size

5"

MR-525-PSA

Call for Price
Accessories:
Description

Size

Product #

Price

Quantity

Action

Description

5″ Hook Backup Pad -no holes (5/16″ shaft; 24 count thread)

Size

5"

Product #

105GG

Price

Call for Price

Description

5″ Hook Backup Pad -5 holes (5/16″ shaft; 24 count thread)

Size

5"

Product #

105GV

Price

Call for Price

Description

5″ Hook Backup Pad – multi holes (5/16″ shaft; 24 count thread)

Size

5"

Product #

915GV28

Price

Call for Price

Description

5″ Vinyl Backup Pad -no holes (5/16″ shaft; 24 count thread)

Size

5"

Product #

105

Price

Call for Price
Description

Size

Product #

Price

Quantity

Action

Description

Abranet Pad Protector (Pack of 5)

Size

5"

Product #

9955

Price

Call for Price