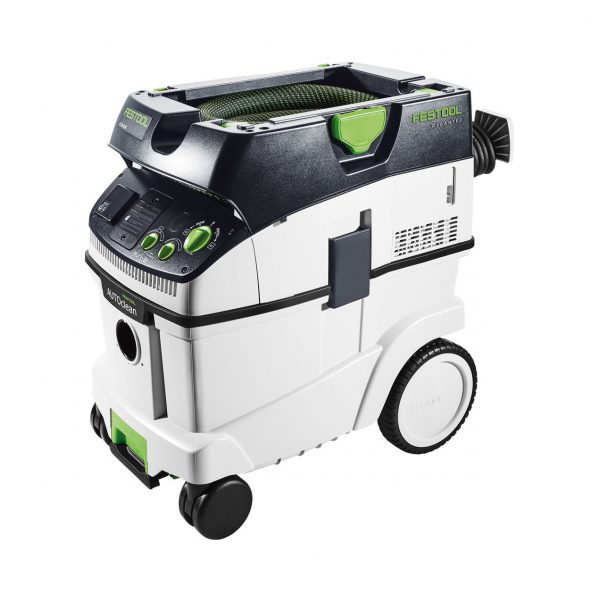 Mobile Dust Extractor 9.5 Gal Capacity HP Filter
Designed for the toughest, high volume dust environments, the CT 36 AC is built to capture the mess before it becomes an issue—for you or your client. With automatic start, variable suction force, large casters and German-build quality, the CT 36 AC is jobsite tough and jobsite smart.
Automatic filter cleaning technology ensures maximum suction when used with Planex Drywall Sander, 1 micron high-performance filter. Automatic Tool Start & adjustable suction with tool triggered or manual on-off switch and infinitely variable suction force, can be used wet or dry. Supplied with lightweight 11-1/2 foot long anti-static hose that is flexible and kink-resistant and will minimize shock hazards as well as reduce static cling. Container/filter bag capacity 36/34 l. With AUTOCLEAN function.
*To get more information on this System see Information Sheet.
*For technical information on this product see Technical Data Sheet.
Description

Product #

Price

Quantity

Action

Description

CT 36 AC-Mobile Dust Extractor 9.5 Gal Capacity HP Filter

Product #

574933

Price

Call for Price
Accessories:
Description

Product #

Price

Quantity

Action

Description

Anti-Static Hose for CT 26 E/CT 36 E/CT 48 E/CT 36 AC (1-1/16 in x 11.5 ft)

Product #

452878

Price

Call for Price

Description

Self-Clean Filter Bag for CT 36 E & CT 36 AC

Product #

496186

Price

Call for Price

Description

HEPA Main Filter for CT 26 E/CT 36 E/CT 48 E/CT 36 AC

Product #

498994

Price

Call for Price