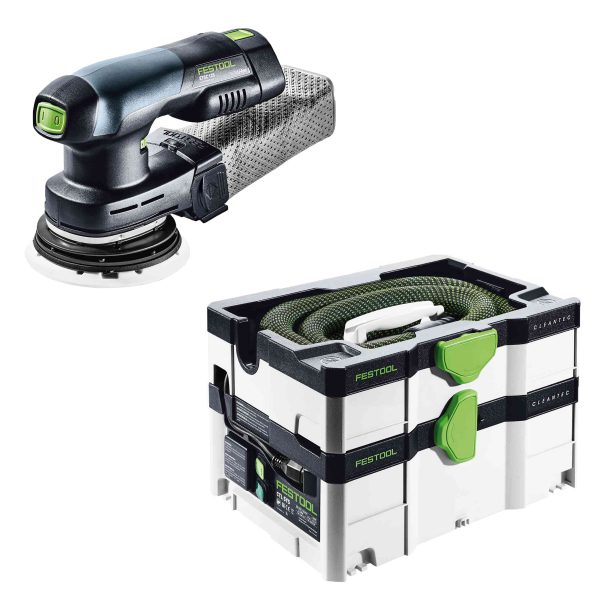 5″ Ultra Compact Finish Sanding System
This Festool Ultra Compact Sanding System is perfect for fine finish sanding in occupied job sites where dust control and noise is paramount. Portability. *Comes with FREE Kit of Discs ($40 Value): 5 each of P80/100/120/150/180/220/320 grits.
Finish Sander: Effortlessly transition from corded to cordless without compromising performance. Balanced with a unique ergonomic battery for optimum performance and handling. The ETSC 125 provides the same functionality of its corded counterpart but with hybrid power options – use it cordless or corded. The 18-volt Ergo battery provides up to 30 minutes of runtime at full power. Work virtually dust-free with Jetstream® dust extraction technology to ensure a cleaner surface and work environment with longer abrasive life for better sanding results. Integrated, removable Protector provides protection to abutting surfaces as well as the pad for up close sanding applications. Hybrid power source – corded or cordless operation. Ergo battery for balance and ergonomics. Jetstream® dust extraction for cleaner surfaces and work environment. 30 minute recharge for 18-volt, 3.1 Ah battery (with TCL 6 charger). Protector guard protects pad and abutting surfaces from damage. This set comes with the following: StickFix Soft Sander Backing Pad for ETS 125 Sander, D125; Festool PROTECTOR; longlife dust bag; 2 x BP 18 Li 3.1 ERGO battery pack; rapid charger TCL 6; ACA 18 V ERGO Power Adapter.
Dust Extractor: Portable and compact, yet loaded with features such as Full Unit HEPA Certification, tool-triggered operation, high-performance suction, and Systainer integration. The CT SYS is ideal for remodelers and painters who need the upmost in portability, yet without compromise in function.
For information regarding the Finish Sander, see Information Sheet.
For technical information on both products, see Technical Data Sheet.
For information regarding the Dust Extractor, see Info from Pro Wood.
Description

Size

Product #

Price

Quantity

Action

5″ ETSC LI 3,0-Plus Cordless Finish Sander Set & CT SYS – Ultra Compact Dust Extractor 1.2 Gal Capacity + Free Discs Kit

Size

5 in

201531/575280

Call for Price
Accessories:
Description

Size

Product #

Price

Quantity

Action

Description

Sander Backing Pad for ETSC 125/ETS 125 REQ 5″ – Medium

Size

5 in

Product #

492280

Price

Call for Price

Description

Long-Life Dust Collection Bag (special order)

Size

Each

Product #

201693

Price

Call for Price

Description

Battery Pack (special order)

Size

Product #

202500

Price

Call for Price

Description

Adapter for 110V AC

Size

Product #

202502

Price

Call for Price
Abrasive Discs:
Description

Size

Grit

# Discs/Bx

Product #

Price

Quantity

Action

Description

5″ Granat Discs – P40

Size

5 in

Grit

P40

# Discs/Bx

50

Product #

497165

Price

Call for Price

Description

5″ Granat Discs – P60

Size

5 in

Grit

P60

# Discs/Bx

50

Product #

497166

Price

Call for Price

Description

5″ Granat Discs – P80

Size

5 in

Grit

P80

# Discs/Bx

50

Product #

497167

Price

Call for Price

Description

5″ Granat Discs – P100

Size

5 in

Grit

P100

# Discs/Bx

100

Product #

497168

Price

Call for Price

Description

5″ Granat Discs – P120

Size

5 in

Grit

P120

# Discs/Bx

100

Product #

497169

Price

Call for Price

Description

5″ Granat Discs – P150

Size

5 in

Grit

P150

# Discs/Bx

100

Product #

497170

Price

Call for Price

Description

5″ Granat Discs – P180

Size

5 in

Grit

P180

# Discs/Bx

100

Product #

497171

Price

Call for Price

Description

5″ Granat Discs – P220

Size

5 in

Grit

P220

# Discs/Bx

100

Product #

497172

Price

Call for Price

Description

5″ Granat Discs – P240

Size

5 in

Grit

P240

# Discs/Bx

100

Product #

497173

Price

Call for Price

Description

5″ Granat Discs – P280

Size

5 in

Grit

P280

# Discs/Bx

100

Product #

497174

Price

Call for Price

Description

5″ Granat Discs – P320

Size

5 in

Grit

P320

# Discs/Bx

100

Product #

497175

Price

Call for Price

Description

5″ Granat Discs – P360 (special order)

Size

5 in

Grit

P360

# Discs/Bx

100

Product #

497176

Price

Call for Price

Description

5″ Granat Discs – P400

Size

5 in

Grit

P400

# Discs/Bx

100

Product #

497177

Price

Call for Price

Description

5″ Granat Discs – P500 (special order)

Size

5 in

Grit

P500

# Discs/Bx

100

Product #

497178

Price

Call for Price

Description

5″ Granat Discs – P800 (special order)

Size

5 in

Grit

P800

# Discs/Bx

50

Product #

497179

Price

Call for Price

Description

5″ Granat Discs – P1000 (special order)

Size

5 in

Grit

P1000

# Discs/Bx

50

Product #

497180

Price

Call for Price

Description

5″ Granat Discs – P1200 (special order)

Size

5 in

Grit

P1200

# Discs/Bx

50

Product #

497181

Price

Call for Price

Description

5″ Granat Discs – P1500 (special order)

Size

5 in

Grit

P1500

# Discs/Bx

50

Product #

497182

Price

Call for Price
Description

Size

Product #

Price

Quantity

Action

Description

HEPA Main Filter For CT SYS

Size

Each

Product #

200340

Price

Call for Price

Description

Long-life Filter Bag for CT SYS (Special order)

Size

Each

Product #

500642

Price

Call for Price

Description

Anti-Static Hose for CT SYS (1-1/16 in x 9.8 ft) (Special order)

Size

Each

Product #

500559

Price

Call for Price