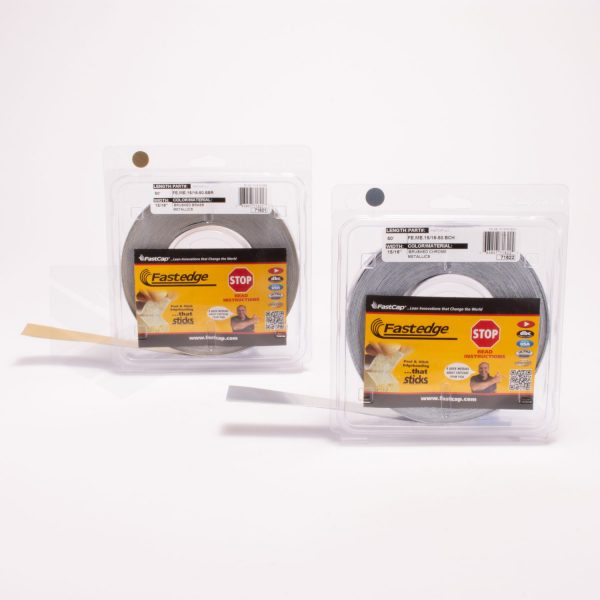 Brushed/Polished Brass & Chrome FastEdge
FastEdge is a peel & stick edgebanding made with high performance, ultra-bond PSA adhesive. It is fast, easy, super strong and increases in strength over time. Simply peel off the liner, stick, roll and trim and you are done! Features: Fast and easy to install increases in strength as it cures. Comes in PVC, unfinished wood, brushed/polished brass & chrome. Great for: Cabinetmakers; Field repairs; and Refacing. We stock the most popular size: 15/16″ in a 50 foot roll.
*For more information regarding how to use this product see Information Sheet.
*For color & materials information see Technical Data Sheet.
*For more information regarding the many shapes and sizes of this product see Info from Pro Wood.
Description

Size

PWF Type

Color

Product #

Price

Quantity

Action

Brushed/Polished Brass & Chrome FastEdge 50′ Roll-Polished Brass (PBR)

Size

15/16"

PWF Type

Metal

Color

PBR

FEME151650PBR

Call for Price

Brushed/Polished Brass & Chrome FastEdge 50′ Roll-Brushed Brass (BBR)

Size

15/16"

PWF Type

Metal

Color

BBR

FEME151650BBR

Call for Price

Brushed/Polished Brass & Chrome FastEdge 50′ Roll-Polished Chrome (PCHR)

Size

15/16"

PWF Type

Metal

Color

PCHR

FEME151650PCHR

Call for Price

Brushed/Polished Brass & Chrome FastEdge 50′ Roll-Brushed Chrome (BCHR)

Size

15/16"

PWF Type

Metal

Color

BCHR

FEME151650BCHR

Call for Price