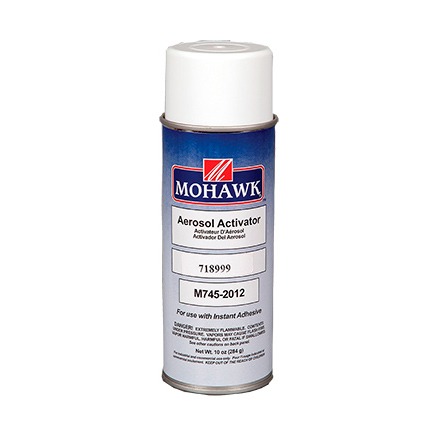 Mohawk Aerosol Activator
The Aerosol Activator has been formulated so it can be used successfully in just about any situation you can think of. For best results, apply sparingly at a distance of about 11 inches from the target. Net Wt. 10 oz. Cures Instant Adhesive on white wood dents in about ten seconds or less without causing undue chlorosis. Does not adversely affect finishes when gluing broken pieces and splinters on finished wood. It does not soften the finish or leave a telltale shiny spot. Effective when applied to one piece of wood, the glue is applied to another piece, and then the pieces are joined. The Activator will not prematurely cure the adhesive before it bonds the parts. Does not leave an oily residue.
*To see more information regarding this product, see Technical Data Sheet.
Description

Size

Product #

Price

Quantity

Action

Mohawk Aerosol Activator

Size

12 oz

M745-2012

Call for Price