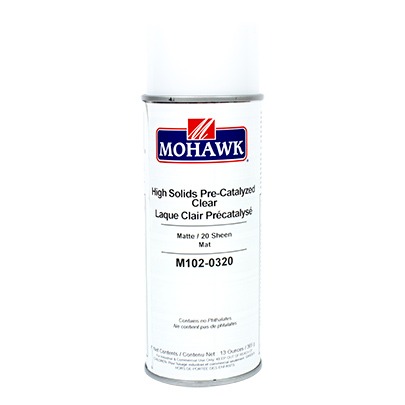 High Solids Pre-Catalyzed Clears
A high solids pre-catalyzed aerosol lacquer with the durability and adhesion of our traditional pre-cat aerosol that eliminates the need to mix bulk finishes for your small refinishing and restoration jobs. Net Wt. 13 oz. High solids, fast build. Superior flow out. Outstanding adhesion. Excellent durability.
*To see more information regarding this product, see Information-Technical Sheet.
Description

Size

Sheen Name

Product #

Price

Quantity

Action

High Solids Pre-Catalyzed Clears-Matte (20 Sheen)

Size

13 oz

Sheen Name

Matte

M102-0320

Call for Price

High Solids Pre-Catalyzed Clears-Satin (35 Sheet)

Size

13 oz

Sheen Name

Satin

M102-0335

Call for Price