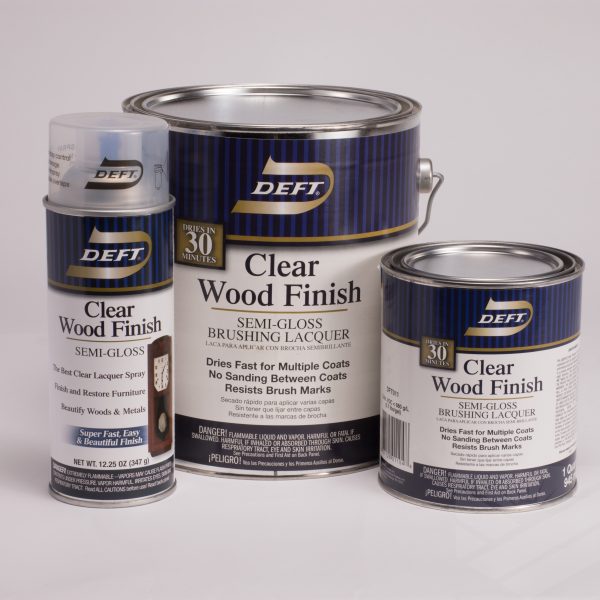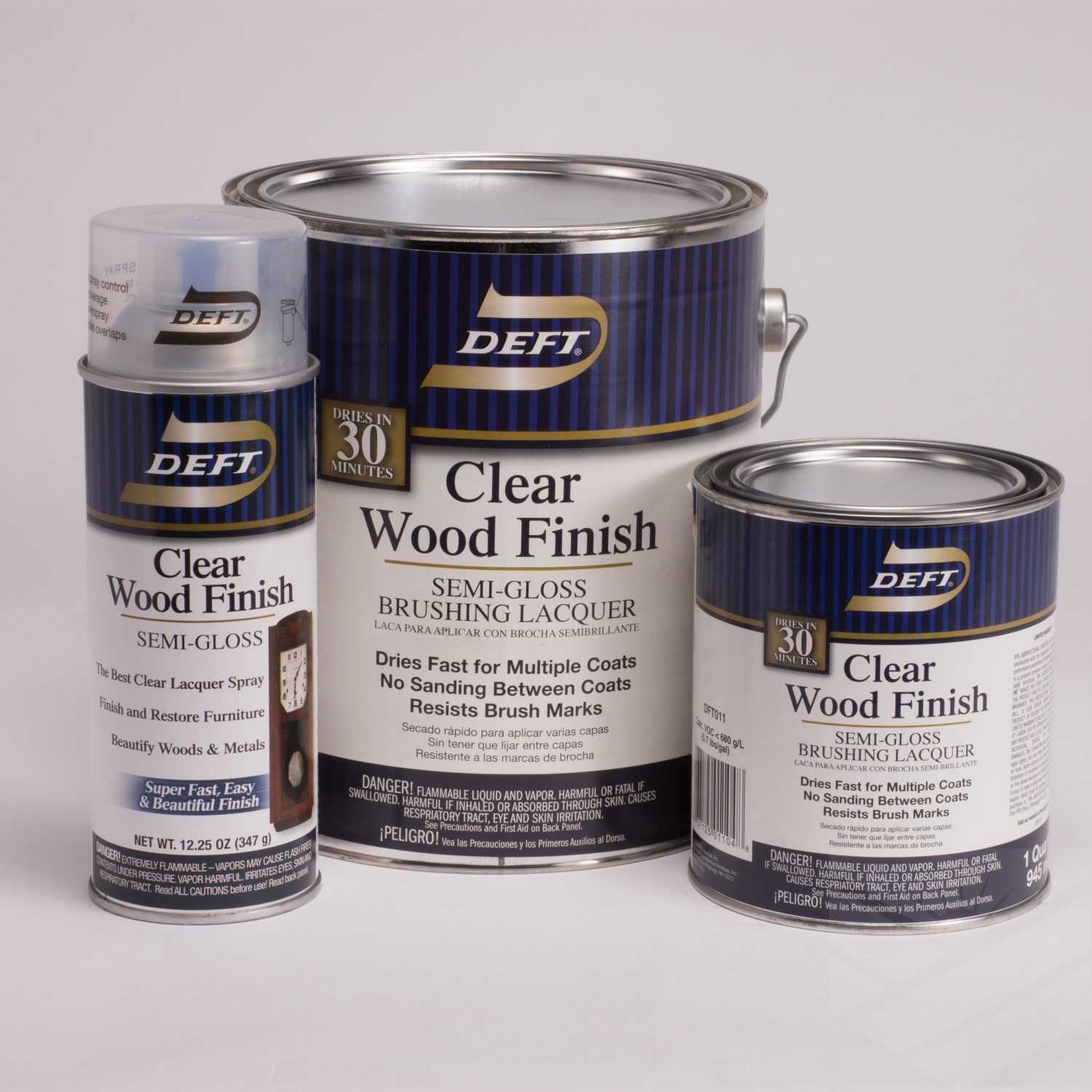 Deft Clear Wood Finish
This clear wood finish brushing spray is 100-Percent nitrocellulose brushing lacquer for most interior wood and metal surfaces. Fast 2-hour dry, self-leveling, and easy application provide professional results. This crystal clear lacquer is non-yellowing. It saves time because there's no sanding between coats, and it dries to the touch in 30 minutes.
Deft Clear Lacquer Wood Finish is a fast drying easy-to-use finish for interior wood finishing projects. This is a fast drying, clear brushing lacquer. Self-leveling. Resists brush marks. Dries to touch in 30 minutes at 77 F and 50% relative humidity. Also recommended for interior metals.
*To see more information regarding this product, see Information-Technical Sheet.
Description

Size

Sheen Name

Product #

Price

Quantity

Action

Deft Clear Finish (aerosol)

Size

12.25 oz

Sheen Name

Gloss

DFTCWFG-S

Call for Price

Deft Clear Finish (aerosol)

Size

12.25 oz

Sheen Name

Semi-Gloss

DFTCWFS/G-S

Call for Price

Deft Clear Finish (aerosol)

Size

12.25 oz

Sheen Name

Satin

DFTCWFS-S

Call for Price

Deft Clear Sanding Sealer (aerosol)

Size

12 oz

Sheen Name

DFTCWFSS-S

Call for Price
Brush Applied Liquid Sealers:
Description

Sheen Name

Sheen Number

Size

Product #

Price

Quantity

Action

Description

Deft Clear Finish

Sheen Name

Satin

Sheen Number

18

Size

1 quart

Product #

DFTCWFS-Q

Price

Call for Price

Description

Deft Clear Finish

Sheen Name

Satin

Sheen Number

18

Size

1 gal

Product #

DFTCWFS-G

Price

Call for Price

Description

Deft Clear Finish

Sheen Name

Semi-Gloss

Sheen Number

32

Size

1 quart

Product #

DFTCWFS/G-Q

Price

Call for Price

Description

Deft Clear Finish

Sheen Name

Semi-Gloss

Sheen Number

32

Size

1 gal

Product #

DFTCWFS/G-G

Price

Call for Price

Description

Deft Clear Finish

Sheen Name

Gloss

Sheen Number

90

Size

1 quart

Product #

DFTCWFG-Q

Price

Call for Price

Description

Deft Clear Finish

Sheen Name

Gloss

Sheen Number

90

Size

1 gal

Product #

DFTCWFG-G

Price

Call for Price