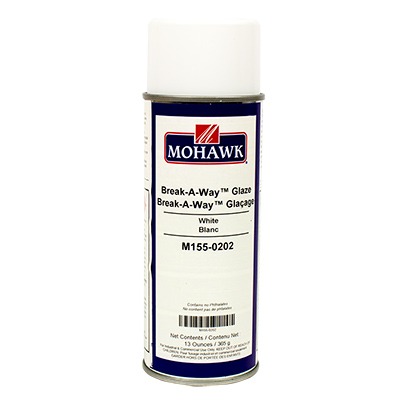 Break-A-Way Glaze
Break-A-Way Glaze is the perfect product to easily add heavy hang up and detail accent color to ornate fine cabinetry or woodworking. Break-A-Way Glaze is applied over a sanded sealer or finish coat and then allowed to dry to a chalky, powdered state that is easily removed with an abrasive pad. Break-A-Way Glaze must be topcoated with a clear finish. Net Wt. 13 oz. Spray applied. Compatible with all Mohawk finishes including waterborne. Superior hang and build compared to solvent glazes.
*To see more information regarding this product, see Information-Technical Sheet.
We have attached a sample chart of all 3 available colors under Stain Chart.
Description

Color

Size

Product #

Price

Quantity

Action

Break-A-Way Glaze-Aerosol White

Color

Aerosol White

Size

13 oz

M155-0202

Call for Price

Break-A-Way Glaze-Burnt Umber

Color

Burnt Umber

Size

13 oz

M155-1435

Call for Price

Break-A-Way Glaze-Van Dyke Brown

Color

Van Dyke Brown

Size

13 oz

M155-1478

Call for Price