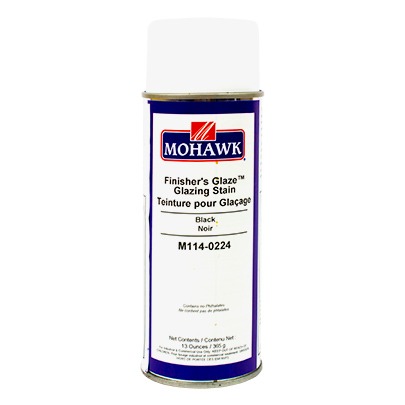 Finisher's Glaze Glazing Stain
A truly professional glaze in an aerosol. No lid to open. No messy stir stick. No spills. No messy applicator. Just shake and spray. This is a medium viscosity glaze formulated in the spirit of our Finisher's Glaze Glazing Stain to yield great workability, and yet the solvent system is so coatings compatible that you can topcoat within minutes. The high pigment load assures the opacity you need for great coverage. Use this glaze for quick and easy touch-ups, finishing applications, refinishing, and expedient application on carvings and into corners. In short, use it for anything you can do with a bulk glaze—only faster. Net Wt. 13 oz.
*To see more information regarding this product, see Information-Technical Sheet.
We have attached a sample chart of all 6 available colors under Stain Chart.
Description

Color

Size

Product #

Price

Quantity

Action

Finisher's Glaze Glazing Stain-6 Assortment

Color

6 Assortment

Size

M114-0600

Call for Price

Finisher's Glaze Glazing Stain-Raw Umber

Color

Raw Umber

Size

13 oz

M114-0143

Call for Price

Finisher's Glaze Grazing Stain-Stain White

Color

Stain White

Size

13 oz

M114-0202

Call for Price

Finisher's Glaze Glazing Stain-Stain Black

Color

Stain Black

Size

13 oz

M114-0224

Call for Price

Finisher's Glaze Glazing Stain-Deep Mahogany

Color

Deep Mahogany

Size

13 oz

M114-0384

Call for Price

Finisher's Glaze Glazing Stain-Burnt Umber

Color

Burnt Umber

Size

13 oz

M114-1435

Call for Price

Finisher's Glaze Glazing Stain-Van Dyke Brown

Color

Van Dyke Brown

Size

13 oz

M114-1478

Call for Price