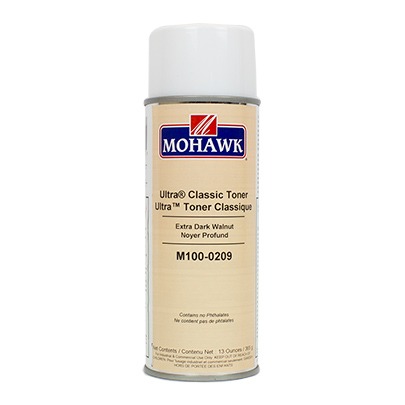 Ultra Classic Toner
Dye-based transparency with highest rating of light-fastness available for dyes. Excellent flow out, no overspray. Mar and alcohol resistant. Solve flow-out problems associated with aerosol lacquer touch-up! Ultra Classic Toners utilize a non-fading, non-bleeding dye to provide excellent clarity. Wood shades can be varied without imparting the "muddy" effect sometimes associated with pigment type toners. Custom color matching available. Net Wt. 13 oz.
*To see more information regarding this product, see Information-Technical Sheet. 
We have attached a sample chart of all 27 available colors under Stain Chart.
Description

Color

Size

Product #

Price

Quantity

Action

Ultra Classic Toner-Natural Pine

Color

Natural Pine

Size

13 oz

M100-0002

Call for Price

Ultra Classic Toner-Maison Brown

Color

Maison Brown

Size

13 oz

M100-0004

Call for Price

Ultra Classic Toner-Amber

Color

Amber

Size

13 oz

M100-0007

Call for Price

Ultra Classic Toner-Medium Brown Walnut

Color

Medium Brown Walnut

Size

13 oz

M100-0207

Call for Price

Ultra Classic Toner-Extra Dark Walnut

Color

Extra Dark Walnut

Size

13 oz

M100-0209

Call for Price

Ultra Classic Toner-Dark Golden Oak

Color

Dark Golden Oak

Size

13 oz

M100-0220

Call for Price

Ultra Classic Toner-Black

Color

Black

Size

13 oz

M100-0224

Call for Price

Ultra Classic Toner-Dark Red Mahogany

Color

Dark Red Mahogany

Size

13 oz

M100-0227

Call for Price

Ultra Classic Toner-Brown Mahogany

Color

Brown Mahogany

Size

13 oz

M100-0229

Call for Price

Ultra Classic Toner-Perfect Brown

Color

Perfect Brown

Size

13 oz

M100-0249

Call for Price

Ultra Classic Toner-Modern Mahogany

Color

Modern Mahogany

Size

13 oz

M100-0273

Call for Price

Ultra Classic Toner-Light Oak/Natural

Color

Light Oak/Natural

Size

13 oz

M100-0321

Call for Price

Ultra Classic Toner-Light Pecan

Color

Light Pecan

Size

13 oz

M100-0322

Call for Price

Ultra Classic Toner-Dark Walnut/Oak

Color

Dark Walnut/Oak

Size

13 oz

M100-0351

Call for Price

Ultra Classic Toner-Light Walnut/Colonial Maple

Color

Light Walnut/Colonial Maple

Size

13 oz

M100-0352

Call for Price

Ultra Classic Toner-Van Dyke Brown

Color

Van Dyke Brown

Size

13 oz

M100-0353

Call for Price

Ultra Classic Toner-Brown Fruitwood

Color

Brown Fruitwood

Size

13 oz

M100-0354

Call for Price

Ultra Classic Toner-Medium Oak/Tavern Pine

Color

Medium Oak/Tavern Pine

Size

13 oz

M100-0355

Call for Price

Ultra Classic Toner-Red Mahogany/Cherry

Color

Red Mahogany/Cherry

Size

13 oz

M100-0381

Call for Price

Ultra Classic Toner-Natural Cherry

Color

Natural Cherry

Size

13 oz

M100-0382

Call for Price

Ultra Classic Toner-Dark Red Walnut

Color

Dark Red Walnut

Size

13 oz

M100-0383

Call for Price

Ultra Classic Toner-Deep Red Mahogany

Color

Deep Red Mahogany

Size

13 oz

M100-0384

Call for Price

Ultra Classic Toner-Cherry

Color

Cherry

Size

13 oz

M100-0408

Call for Price

Ultra Classic Toner-Light Golden Oak

Color

Light Golden Oak

Size

13 oz

M100-0415

Call for Price

Ultra Classic Toner- Yellow Tone-Up

Color

Yellow Tone-Up

Size

13 oz

M100-1488

Call for Price

Ultra Classic Toner-Dark Walnut

Color

Dark Walnut

Size

13 oz

M100-7020

Call for Price

Ultra Classic Toner-Universal Walnut

Color

Universal Walnut

Size

13 oz

M100-7021

Call for Price