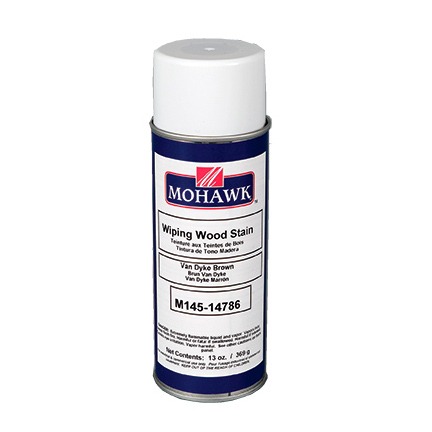 Wiping Wood Stain Aerosol
Pigmented wiping stains that create beautiful, grain-enhancing, fade-resistant wood tones. They can be used as stand alone or in conjunction with our other products to create professional finishes with rich depth of color. Spills are out of the question with Wiping Wood Stain Aerosols. No stain dribbles down the side of the container while stirring, just shake the can. Apply by spraying the stain to the surface of the wood and using a brush or a cloth to spread the color. Cleanup is accomplished by inverting the can and depressing the nozzle for about 5 seconds. These stains look great when highlighted with Finisher's Glaze Glazing Stain.
*To see more information regarding this product, see Information-Technical Sheet.
We have attached a sample chart of all 12 available colors under Stain Chart.
Description

Color

Size

Product #

Price

Quantity

Action

Wiping Wood Stain Aerosol-12 Pack Assortment

Color

12 Pack Assortment

Size

M145-1200

Call for Price

Wiping Wood Stain Aerosol-Medium Walnut

Color

Medium Walnut

Size

13 oz

M145-02055

Call for Price

Wiping Wood Stain Aerosol-Van Dyke Brown

Color

Van Dyke Brown

Size

13 oz

M145-14726

Call for Price

Wiping Wood Stain Aerosol-White

Color

White

Size

13 oz

M145-2026

Call for Price

Wiping Wood Stain Aerosol-Medium Brown Walnut

Color

Medium Brown Walnut

Size

13 oz

M145-2076

Call for Price

Wiping Wood Stain Aerosol-Extra Dark Walnut

Color

Extra Dark Walnut

Size

13 oz

M145-2056

Call for Price

Wiping Wood Stain Aerosol-Black

Color

Black

Size

13 oz

M145-2246

Call for Price

Wiping Wood Stain Aerosol-Dark Red Mahogany

Color

Dark Red Mahogany

Size

13 oz

M145-2276

Call for Price

Wiping Wood Stain Aerosol-Brown Mahogany

Color

Brown Mahogany

Size

13 oz

M145-2246

Call for Price

Wiping Wood Stain Aerosol-Perfect Brown

Color

Perfect Brown

Size

13 oz

M145-2496

Call for Price

Wiping Wood Stain Aerosol-Modern Mahogany

Color

Modern Mahogany

Size

13 oz

M145-2736

Call for Price

Wiping Wood Stain Aerosol-Cherry

Color

Cherry

Size

13 oz

M145-4086

Call for Price

Wiping Wood Stain Aerosol-Light Golden Oak

Color

Light Golden Oak

Size

13 oz

M145-4156

Call for Price