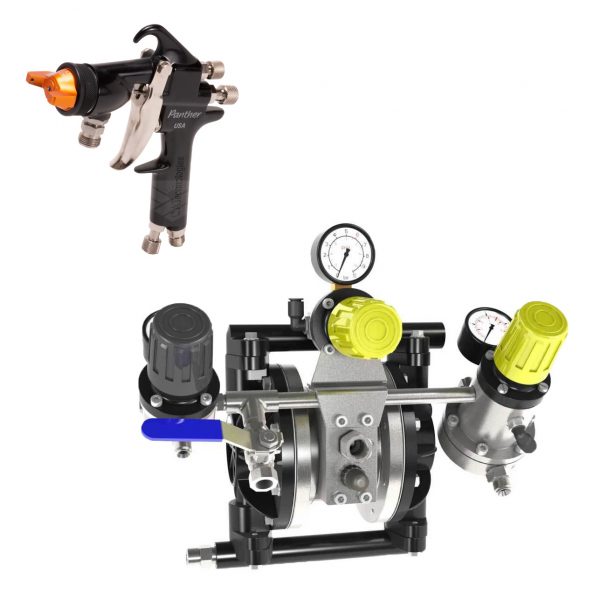 Kremlin Diaphragm Wall Mount Adhesive System
The Kremlin PMP 150 Pump & Panther Laminator Spray Gun are the ultimate combo for spraying adhesives in high production settings. The teflon-coated Gun in combination with the Dual Diaphragm Pump is the most durable and reliable system for continuous production use. Use of Diaphragm Pumps instead of Pressure Pots reduces waste and decreases cleaning. System comes with Pump & Spray Gun, 25 ft of fluid and air hoses, pick up tube, all connections and hose protectors. Available in 5G & 55G set-ups.
Spray Gun: The Panther is a high quality spray gun designed for glue/adhesive applications of all types. The body and air cap are teflon coated for easy clean-up and longer life. Enhanced with all stainless steel fluid passages.  Guns feature self-adjusting needle packings, inexpensive nozzle replacement and rugged construction. Heavy duty needle and spring to prevent leakage.
Pump: The PMP 150 is a diaphragm pump for applications requiring a 1:1 ratio and can be used with adhesive, medium viscosity or harsh coatings. The simple design means easy operation and maintenance. Compact diaphragm technology. The PMP 150 provides constant and pulse-free delivery of fluids for superior spray application. Designed for water-based and solvent-based materials. Comes with 3 Regulators: Motor, Fluid & Air Pressure and pick-up tube.
*To get more information on this Gun & Pump see Information Sheet.
*For parts schematic on the Gun see Technical Data Sheet.
*For parts schematic on the Pump see Info from Pro Wood.
Description

Product #

Price

Quantity

Action

Kremlin System includes: Panther Spray Gun, PMP 150 Pump with 3 Regulators, 5G pick up tube, and all hoses & connections with hose protector (special order)

PMP150/P100G-5

Call for Price

Kremlin System includes: Panther Spray Gun, PMP 150 Pump with 3 Regulators, 55G pick up tube, and all hoses & connections with hose protector (special order)

PMP150/P100G-55

Call for Price