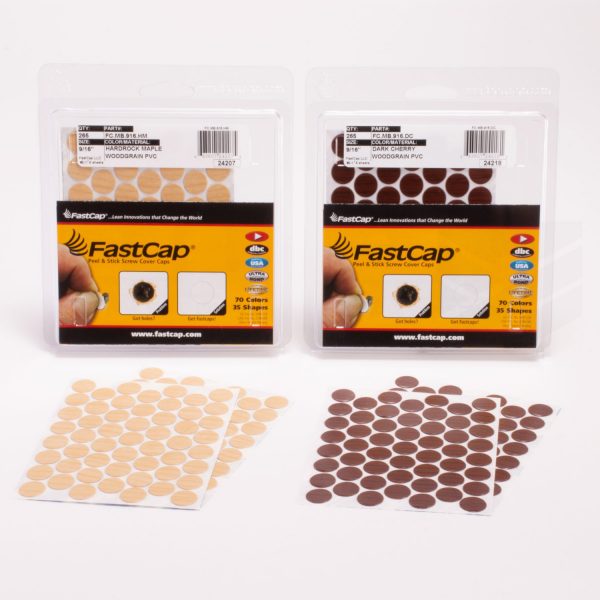 PVC FastCaps
FastCap Peel and Stick Cover Caps. Set yourself apart…Fastcap™ is the finishing touch to a professional job! Fastcaps™ are self-adhesive cover caps made with high performance acrylic Ultra-Bond™ PSA adhesive which increases in strength as it cures, providing a long lasting permanent bond. Fastcap™ are fast and easy to install and stick like a bad habit. Made of durable PVC, unfinished wood and pre-finished real wood, they work in a wide variety of applications from covering screw holes and RTA fittings, to trimming out plumbing cutouts in sink cabinets. We stock the most popular size: 9/16″.
*For more information regarding how to use this product see Information Sheet.
*For color & materials information see Technical Data Sheet.
*For more information regarding the many special order shapes and sizes of this product see Info from Pro Wood.
Description

Size

PWF Type

Color

Product #

Price

Quantity

Action

PVC FastCap Mini Box-Finished MDF (MDF)

Size

9/16"

PWF Type

PVC

Color

MDF

FC.MB.916.MDF

Call for Price

PVC FastCap Mini Box-Beech (BE)

Size

9/16"

PWF Type

PVC

Color

BE

FC.MB.916.BE

Call for Price

PVC FastCap Mini Box-Knotty Pine (KP)

Size

9/16"

PWF Type

PVC

Color

KP

FC.MB.916.KP

Call for Price

PVC FastCap Mini Box-Mahogany on Walnut (MW)

Size

9/16"

PWF Type

PVC

Color

MW

FC.MB.916.MW

Call for Price

PVC FastCap Mini Box-Imperial Walnut (IW)

Size

9/16"

PWF Type

PVC

Color

IW

FC.MB.916.IW

Call for Price

PVC FastCap Mini Box-Presidential Walnut (PW)

Size

9/16"

PWF Type

PVC

Color

PW

FC.MB.916.PW

Call for Price

PVC FastCap Mini Box-Dark Red Mahogany (DM)

Size

9/16"

PWF Type

PVC

Color

DM

FC.MB.916.DM

Call for Price

PVC FastCap Mini Box-Red Mahogany (RM)

Size

9/16"

PWF Type

PVC

Color

RM

FC.MB.916.RM

Call for Price

PVC FastCap Mini Box-Autumn Cherry (AC)

Size

9/16"

PWF Type

PVC

Color

AC

FC.MB.916.AC

Call for Price

PVC FastCap Mini Box-Heritage Cherry (HT)

Size

9/16"

PWF Type

PVC

Color

HT

FC.MB.916.HT

Call for Price

PVC FastCap Mini Box-Dark Cherry (DC)

Size

9/16"

PWF Type

PVC

Color

DC

FC.MB.916.DC

Call for Price

PVC FastCap Mini Box-Golden Cherry (GC)

Size

9/16"

PWF Type

PVC

Color

GC

FC.MB.916.GC

Call for Price

PVC FastCap Mini Box-Bourbon Cherry (BC)

Size

9/16"

PWF Type

PVC

Color

BC

FC.MB.916.BC

Call for Price

PVC FastCap Mini Box-Medium Cherry (MC)

Size

9/16"

PWF Type

PVC

Color

MC

FC.MB.916.MC

Call for Price

PVC FastCap Mini Box-Select Cherry (SC)

Size

9/16"

PWF Type

PVC

Color

SC

FC.MB.916.SC

Call for Price

PVC FastCap Mini Box-Natural Cherry (NC)

Size

9/16"

PWF Type

PVC

Color

NC

FC.MB.916.NC

Call for Price

PVC FastCap Mini Box-American Maple (AM)

Size

9/16"

PWF Type

PVC

Color

AM

FC.MB.916.AM

Call for Price

PVC FastCap Mini Box-Clear Maple (CM)

Size

9/16"

PWF Type

PVC

Color

CM

FC.MB.916.CM

Call for Price

PVC FastCap Mini Box-Light Maple (LM)

Size

9/16"

PWF Type

PVC

Color

LM

FC.MB.916.LM

Call for Price

PVC FastCap Mini Box-White Washed Maple (WW)

Size

9/16"

PWF Type

PVC

Color

WW

FC.MB.916.WW

Call for Price

PVC FastCap Mini Box-Manitoba Maple (MM)

Size

9/16"

PWF Type

PVC

Color

MM

FC.MB.916.MM

Call for Price

PVC FastCap Mini Box-Hardrock Maple (HM)

Size

9/16"

PWF Type

PVC

Color

HM

FC.MB.916.HM

Call for Price

PVC FastCap Mini Box-Light Oak (LO)

Size

9/16"

PWF Type

PVC

Color

LO

FC.MB.916.LO

Call for Price

PVC FastCap Mini Box-Medium Oak (MO)

Size

9/16"

PWF Type

PVC

Color

MO

FC.MB.916.MO

Call for Price

PVC FastCap Mini Box-Rosewood Oak (SO)

Size

9/16"

PWF Type

PVC

Color

SO

FC.MB.916.SO

Call for Price

PVC FastCap Mini Box-Pickled Oak (PO)

Size

9/16"

PWF Type

PVC

Color

PO

FC.MB.916.PO

Call for Price

PVC FastCap Mini Box-Renaissance Oak (RN)

Size

9/16"

PWF Type

PVC

Color

RN

FC.MB.916.RN

Call for Price

PVC FastCap Mini Box-Golden Oak (GO)

Size

9/16"

PWF Type

PVC

Color

GO

FC.MB.916.GO

Call for Price

PVC FastCap Mini Box-Natural Oak (NO)

Size

9/16"

PWF Type

PVC

Color

NO

FC.MB.916.NO

Call for Price

PVC FastCap Mini Box-Folkstone Gray (LG)

Size

9/16"

PWF Type

PVC

Color

LG

FC.MB.916.LG

Call for Price

PVC FastCap Mini Box-Fog Gray (DH)

Size

9/16"

PWF Type

PVC

Color

DH

FC.MB.916.DH

Call for Price

PVC FastCap Mini Box-Black (BL)

Size

9/16"

PWF Type

PVC

Color

BL

FC.MB.916.BL

Call for Price

PVC FastCap Mini Box-Almond (AL)

Size

9/16"

PWF Type

PVC

Color

AL

FC.MB.916.AL

Call for Price

PVC FastCap Mini Box-Antique White (AW)

Size

9/16"

PWF Type

PVC

Color

AW

FC.MB.916.AW

Call for Price

PVC FastCap Mini Box-Smooth White (SW)

Size

9/16"

PWF Type

PVC

Color

SW

FC.MB.916.SW

Call for Price

PVC FastCap Mini Box-White (WH)

Size

9/16"

PWF Type

PVC

Color

WH

FC.MB.916.WH

Call for Price

PVC FastCap Mini Box-Polished Brass (PBR) (special order)

Size

9/16"

PWF Type

PVC

Color

PBR

FC.MB.916.PBR

Call for Price

PVC FastCap Mini Box-Brushed Brass (BBR) (special order)

Size

9/16"

PWF Type

PVC

Color

BBR

FC.MB.916.BBR

Call for Price

PVC FastCap Mini Box-Polished Chrome (PCHR) (special order)

Size

9/16"

PWF Type

PVC

Color

PCHR

FC.MB.916.PCHR

Call for Price

PVC FastCap Mini Box-Brushed Chrome (BCHR) (special order)

Size

9/16"

PWF Type

PVC

Color

BCHR

FC.MB.916.BCHR

Call for Price